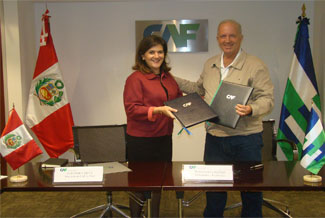 CAF supports the development of Ica
September 07, 2014
The subscription of a Memorandum of Understanding seeks to promote infrastructure and essential public services to strengthen sustainable development in this southern region of Peru
With the objective of contributing to the development process of Ica, and supporting the development of infrastructure and public services to promote sustainable economic, social, and environmental activities in that southern region of Peru, CAF, Development Bank of Latin America, and the Regional Government of Ica, subscribed a Memorandum of Understanding.
CAF's Director Representative in Peru, stated, "This Memorandum will establish the basis for a future cooperation agreement between the parties, in order to explore the possibility of technical or financial support by CAF to the regional government of ICA for investment projects in the area of infrastructure".
The agreement also seeks to contribute to strengthen the Centro de Innovación Tecnológica CITE Agroindustrial de Ica (Ica's Center for Technological Agro-Industrial Innovation - CITE), working jointly with the Ministry of Production and the region's private sector. Contributions will also go to the design, creation, and implementation of the Instituto Científico del Agua (Scientific Water Institute), with the support of the regional government, Concytec, universities, and the private sector.
This agreement between CAF and the Regional Government of Ica will also contribute to the design and implementation of the educational-cultural, social inclusion project "Music to Grow", which is part of CAF's Social Action for Music Program, supported by Sinfonía por el Perú, the regional government, and the private sector of the region.
CAF's Director Representative in Peru also stated, "With the subscription of this document we also intend to strengthen the regional government's institutional, management, and human resources capacities through interventions specifically designed for these purposes".
Fernando Cillóniz Benavides, Governor of the Regional Government of Ica, expressed his gratitude for CAF's support to the improvement of infrastructure projects in his region.
Cillóniz Benavides pointed out, "We work hand in hand with the public and private sectors, achieving objectives that seek comprehensive development for our region. Children in Ica anxiously await for Sinfonia del Peru, so we are summoning our future maestros that will train our children in the art of singing and music. The subscription of this Memorandum is an opportunity to promote sustainable development for the region of Ica".