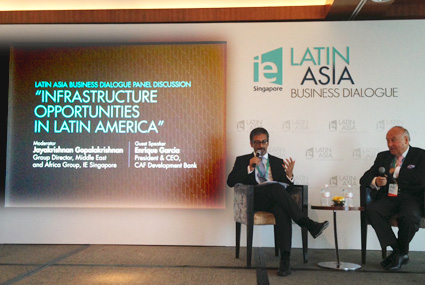 In Singapore, CAF presented new mechanisms for investment in infrastructure in Latin America
Singapore,
October 01, 2014
Enrique García, CAF´s Executive President, made a presentation to the authorities and private sector representatives in the Asian country about investment opportunities and mechanisms in the region
Enrique Garcia, Executive President of CAF, Development Bank of Latin America, made a work visit to Singapore and participated in the Latin Asia Business Dialogue "Making Inroads Into Latin America", a platform to promote trade and investments between Asia and Latin America. He highlighted that "Singapore is a very important ally for the region. The challenge is to take advantage of this favorable opportunity for both in order to promote trade, investment opportunities, and the exchange of experiences and knowledge regarding key issues for sustainable development and integration, such as investment in infrastructure".
In this respect, Garcia presented new mechanisms and instruments to facilitate the channeling of resources from investors to the development of infrastructure in the region, which is a sector in which CAF has ample leadership and a successful experience.
Garcia stated "the countries of Latin America are making great efforts to increase investment in infrastructure, with the purpose of increasing competitiveness, dynamize growth, and generate employment. In this respect, we seek to support them to attract new technologies and external resources from partners with a solid trajectory in the matter".
In the past 10 years, CAF has become one of the main sources of multilateral fnancing for infrastructure projects in Latin America. During the 2008-2013 period, approvals for infrastructure projects reached USD 25 billion.
During his visit to Singapore, Garcia met with Lim Hng Kiang, Minister of trade and Industry in the country, and Teo Eng Cheong, General Director of IESSingapore, the state agency in charge of promoting investments, to strengthen the increasing links with CAF and analyze the existing business opportunities as well as the successful cases of investments in strategic areas. Garcia highlighted CAF´s role as an essentially Latin American institution that generates knowledge, in the identification and promotion of new alliances for development and the global insertion of the region.
The agenda of CAF´s President in Singapore also included meetings with institutional investors and high executives of companies in the region that are interested in sectors such as ports, airports, transportation, enviornment, water and sanitation, and electronic trade.