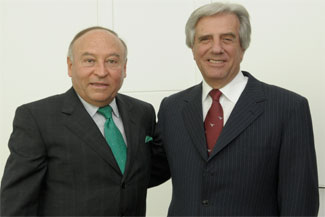 Enrique García congratulates Tabare Vazquez, Uruguay's President elect
December 01, 2014
In a note sent after learning about the results of the elections, Enrique Garcia, Executive President of CAF, Development Bank of Latin America, congratulated Tabare Vazquez, President elect of the Republica Oriental del Uruguay, on his behalf and that of the Institution
In a note sent after learning about the results of the elections, Enrique Garcia, Executive President of CAF, Development Bank of Latin America, congratulated Tabare Vazquez, President elect of the Republica Oriental del Uruguay, on his behalf and that of the Institution.
Garcia stated, "I am pleased to have the opportunity of sending my sincerest congratulations on your victory in the elections that took place yesterday, electing you as President of the Republica Oriental del Uruguay for a second term, after an impeccable electoral process that once again reaffirms the validity of the country's democratic institutional framework".
CAF's President highlighted Vasquez's role during his first term as President, when he promoted the incorporation of Uruguay as full member of the financial institution. This fact contributed not only to the consolidation of CAF's Latin American dimension, but also to strengthen its programs and activities in the region.
In addition, Garcia ratified CAF's strong decision to further strengthen the excellent relations with Uruguay, in order to deepen the working agenda with the public and private sectors to promote the country's sustainable development and integration.