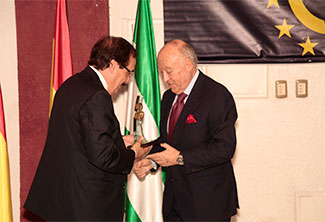 Enrique García receives award for Entrepreneurial Excellence in Bolivia
December 19, 2014
The European Business School granted the recognition to the President of CAF, Development Bank of Latin America, for his distinguished national and international trajectory
In recognition of his distinguished national and international trajectory in the area of Economics and Finances, Enrique Garcia, Executive President of CAF, Development Bank of Latin America, received the Award for Entrepreneurial Excellence from the European Business School.
Carlos Ruiz Hoz de Vila, President of the European Business School, commented when granting the award, "Enrique Garcia is a renowned personality with enormous success as a leading authority in one of the most important institutions at a world level, a job that he has held without interruptions since 1991. In addition, he has been a member of several national and international organizations, always in important positions".
Ruiz Hoz de Vila explained that this year the administration of the European Business School decided to recognize successful Bolivians abroad. He stated, "We could not let the opportunity of giving the award to such an important personality go by. He is a world class professional, a Bolivian who deserves de award".
CAF's Executive President stated that he felt honored by this award, by stating, "I appreciate and congratulate the school for the tasks it carries out. The modality used to train professionals is very interesting, especially in the entrepreneurial sector".
In addition to Garcia, recognitions were delivered to different Bolivian personalities that stand out in their respective fields of action. The award ceremony took place in the Paulistania Room of the Casa Blanca Hotel in the city of Santa Cruz de la Sierra, Bolivia, and included the presence of academic authorities of the institution and special guests.