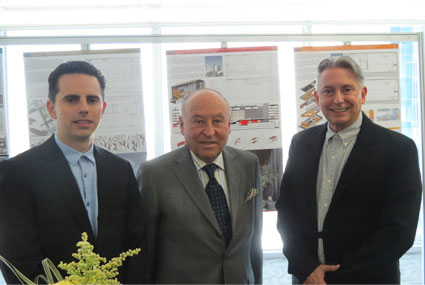 CAF's President presents award to the winning proposal for the construction of the Northern Region Headquarters in Panama City
January 30, 2015
The selected design belongs to the Panamanian company MALLOL & MALLOL ARQUITECTOS, and was in charge of architects Ignacio Mallol Tamayo and Ignacio Mallol Azcarraga
The Executive President of CAF, Development Bank of Latin America, presented the award to architects Ignacio Mallol Tamayo and Ignacio Mallol Azcarraga, of MALLOL & MALLOL ARQUITECTOS, for the construction of CAF's Northern Region Headquarter in Panama City.
Enrique Garcia stated, "With this initiative CAF will strengthen its presence in Panama and all the Northern region by allowing us to be closer to clients and offer better services to shareholder countries. The construction of these facilities will also give us the opportunity to generate public spaces that contribute to the urban transformation of Panama City".
The jury of the International Public Contest of Architectural Ideas selected the proposed design among 21 works presented by contestants from eight countries as a result of the sober and structurally innovating plan, which integrates harmoniously into the urban context with sustainability, urban quality, and architectural and functional quality criteria.
The winning proposal plans a 16,000 m2 of construction space, which includes offices, parking, a public square, and cultural spaces, seeking to minimize the environmental impact of the construction through efficiency and moderation in the use of materials, energy, and space.
The construction project of CAF's new Northern Region Headquarter is located in the 3,100 m2 site between Avenida Ricardo Arango and Calle 56 in the Obarrio neighborhood, in Bella Vista.
The jury that evaluated the proposals was presided by CAF's Executive Vice President Luis Enrique Berrizbeitia, and included Jaime Caycedo - CAF's Corporate Director of Infrastructure, Logistics, and Administration, and architects Jose Guillermo Frontado, Elisa Silva, Mary Carmen Boullosa and Raisa Banfield. Architect Miguel Angel Barrera acted as Secretary.
The second place in the contest was for the design presented by the Consorcio Eskew Dumez Ripple - Architect Hector Palacios, in charge of architects Jose Alvarez and Hector Palacios Saldaña. The third place was for TAPIA + WATSON ARQUITECTOS, with Rafael Watson Felipe and David Tapia Gonzalez as main architects.