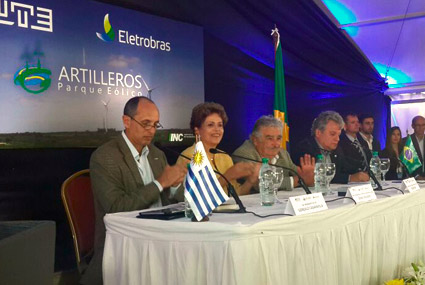 Artilleros aeolic park will produce clean energy for Uruguay
Colonia del Sacramento,
February 28, 2015
A Uruguayan-Brazilian consortium inaugurated the aeolic park to expand Uruguay's capacity to generate renewable energies. CAF granted a loan for USD 58 million to implement the project
With the presence of Dilma Rousseff and Jose Mujica, Presidents of Brazil and Uruguay respectively, Rouar S.A., property of the state owned UTE of
Enrique Garcia, CAF's Executive President, highlighted the relevance of the initiative. " CAF prioritizes support to Uruguay for the development of public and private projects to generate clean energy, framed in the state policy that seeks to diversify the country's energy matrix be means of developing non-conventional renewable energies". He also stated that the park is an example of Latin American integration, resulting from the association of public enterprises in Brazil and Uruguay.
The aeolic farm, located in Tarariras, in the Department of Colonia, has 31 wind turbines of 2.1 MW of nominal power, and the axle box is 90 meters high.
Artilleros is one of 21 aeolic parks that in the next two years will jointly contribute close to 1,100 MW to Uruguay's electricity network.