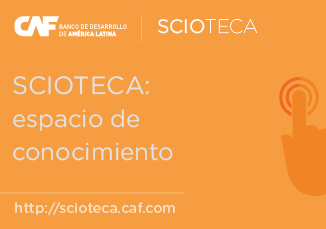 Scioteca: new platform to share knowledge regarding Latin America
February 24, 2015
Scioteca is a database that includes technical publications, research works, economic and development reports, and sectorial analysis, among other documents
With the purpose of improving and increasing access to information and knowledge regarding the region and for the region, CAF -development bank of Latin America-, presents Scioteca, a knowledge database that includes publications, research works, economic and development reports, and sectorial analysis among other products edited by CAF, for free consultation by users in general.
Enrique Garcia, CAF's executive president, expressed, "Knowledge is an essential pillar in CAF's strategy to promote a comprehensive development vision for the region. Currently, CAF is more than a bank for its shareholder countries. It is an independent reflection center that provides support for the design and implementation of public policies, to improve competitiveness, and for the region's international projection".
Scioteca is the first step of a knowledge strategy that includes the adoption of Creative Commons copyright open licenses and the development of massive open online courses (MOOCs), which CAF adopts with the purpose of sharing the knowledge generated by accessible, open, public, free, and accessible for all products.
Among the main publications available in Scioteca, the following stand out; Economy and Development Reports (RED), Infrastructure in the Comprehensive Development of Latin America environment, social development, and cities, among other issues.
Scioteca has been developed in the DSpace platform enabling contact with other databases around the world, and shares knowledge to facilitate the distribution and download of documents, and collaboration between users. In order to achieve interoperability, Scioteca complies with the Dublin Core Metadata Initiative (DCMI) international standards and the Open Archives Initiative Protocol for Metadata Harvesting (OAI-PMH).
To access CAF publications and other knowledge products, visit http://scioteca.caf.com.