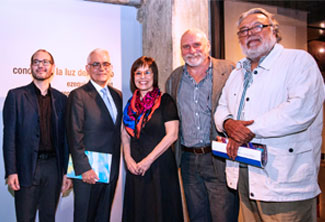 "Cono Sur a la luz del Trópico": a show under the spirit of Latin American brotherhood
Three representatives of the plastic arts in Argentina, Chile, and Uruguay, start the 2015 exhibition programming of Galeria CAF
CAF, Development Bank of Latin America, starts the 2015 exhibition programming of its art gallery with the presentation of works from three artists from Argentina, Chile, and Uruguay.
"Cono Sur a la luz del Trópico" is the name of this exhibition of the southern contemporary plastic art, which brings together abstraction, new figurative art, and geometric landscape in the works of these southern artists under the influence of the tropics.
Another objective of the show is integration: Luis Enrique Berrizbeitia, CAF's Vice President, stated, "Regional integration, one of the essential pillars of CAF's mission, leads us not only to promote exchange and economic and physical interconnection between Latin American countries, but also to rescue and promote cultural aspects that are implicit in the relations between the people of our continent".
The exhibition brings together works by Ezequiel Barakat (Argentina) Hector Villalobos (Chile) and Germn Cabrera Traversoni (Uruguay), artists that not only share a regional origin but also their stay in Venezuela as a choice of life and as a new sphere for their artistic creation.
"Cono Sur a la luz del Trópico" will be open to the public until May 23rd at Galeria CAF, located in Torre CAF, Avenida Luis Roche, Altamira, from Monday to Friday, from 10:00 a.m. to 5:00 p.m. and Sundays from 11:00 a.m. to 3:00 p.m.