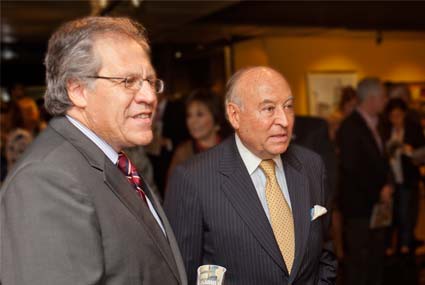 Enrique Garcia congratulates Luis Almagro for his election as General Secretary of the OAS
March 19, 2015
CAF´s Executive President underlined that the appointment of Luis Almagro recognizes his distinguished diplomatic trajectory, solid democratic credentials, and integrationist vocation
Enrique Garcia, Executive President of CAF, Development Bank of Latin America, sent a congratulatory letter to former Uruguayan Minister of Foreign Relations, Luis Almagro, after his recent election as Secretary General of the OAS.
Garcia underlined that the appointment of Almagro recognizes his distinguished diplomatic trajectory, his solid democratic credentials, and his integrationist vocation, as well as the vote of confidence of the countries of the hemisphere to his leadership and capacity to promote dialogue and cooperation.
President Garcia pointed out, "I am certain that during his mandate we will strengthen the excellent relations between the OAS and CAF even more, in order to deepen hemispheric cooperation and promote the sustainable development and integration of the Americas".