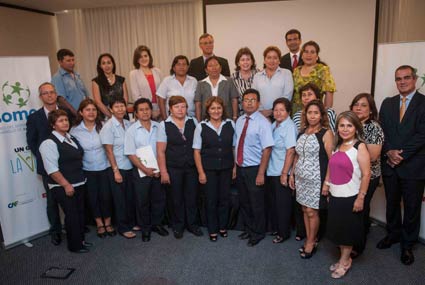 One hundred teachers trained in ludic and sports techniques as educational tools
March 20, 2015
CAF and the Odebrecht Association of Peru promote social inclusion through the practice of games and sports to benefit 3,000 girls, boys, and youths in three regions of the country
CAF, Development Bank of Latin America, and the Asociación Odebrecht Perú (Odebrecht Association of Peru) united efforts two years ago to work in the development of the psycho-social skills of approximately 3,000 Peruvian girls, boys, and youths through the practice of games and sports as educational and social inclusion tools. The project, called "Somos - Un gol por para la vida" ended its first training stage successfully by certifying 100 teachers and coaches as game and sports promoters in three regions of the country.
The teachers' graduating ceremony was held in the framework of the activities developed by the SOMOS program, sports network for the development of Latin America, a CAF initiative that coordinates efforts with public and private organizations and social institutions committed to the promotion of sports as an effective instrument for the development of human competencies in socially vulnerable children and youths.
Silvia Oteyza, CAF's Director of Social Sustainability who lead the graduation ceremony, stated, "Through the SOMOS network we seek to create a space to promote a comprehensive education that favors the emotional, physical, and intellectual development of Latin American children and youths".
In the first stage of the program, 100 teachers were trained in areas such as communications, team work, and leadership, among other modules, benefiting 3,000 girls, boys, and youths from 10 public education institutions and one community soccer school.
Ricardo Boleira, Director Superintendent of Odebrecht, stated, " We are very pleased to be part of this initiative. These coaches are now empowered as sports and social leaders. It is an achievement that consolidates the work we have been carrying out in alliance with CAF, and our objective is to increase participation to 5,000 children in the next five years".
The SOMOS Network is aimed at children and adolescents between the ages of 6 and 12, from vulnerable rural and urban areas of Latin America. With 26 allies in the region, among which the Oderbrecht Association stands out, the program has benefitted more than 40,000 children in 10 countries.