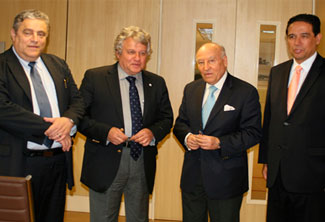 CAF and Eletrobras reaffirm strategic alliance to promote energy projects in the region
April 16, 2015
The objective is to ratify the collaboration between the two entities to strengthen Latin American integration by promoting initiatives in the energy sector
On April 15th, 2015, Enrique Garcia, Executive President of CAF, Development Bank of Latin America, met with Jose da Costa Carvalho Neto, President of Eletrobras in Brazil, Hamilton Moss, Corporate Vice President of Energy, and Victor Rico, CAF's Director Representative in Brazil, to reaffirm the strategic alliance between the two entities to strengthen regional integration by promoting energy projects.
CAF's Executive President stated, "Eletrobras, with whom we maintain a long standing alliance, is an important company not only for Brazil, but also for Latin America. The purpose of this meeting is to promote this association, aimed at projects that strengthen integration in the continent".
During the meeting, as an example of mutual cooperation, the Artilleros Aeolic Park in Uruguay was mentioned, a first international incursion by Eletrobras jointly with the Uruguayan state-owned UTE, a project for which CAF provided a loan for USD 58 million to expand Uruguay's capacity and generate renewable energies.
At the same time, the President of Electrobras presented the portfolio of projects and ongoing international studies. He mentioned the construction of the Tumarin plant in Nicaragua, the study regarding energy interconnection between French Guiana, Guyana, and Suriname to Brazil, and the hydroelectric project of Inambari in Peru. In addition, he referred to the advanced negotiations with Bolivia to study the feasibility of the Cascada Esperanza and Guajara Mirim plants, a bi-national plant.
Da Costa indicated, "The intention of Electrobras is to intensify collaboration with CAF. We have the great dream of developing an interconnected electric system in Latin America, with the norms of the Brazilian systems. With complementary hydric regimes, all the countries of the continent would benefit form this interconnection, increasing the system's energy".
CAF has an investment portfolio of USD18 billion, and 30 percent is aimed at energy projects.