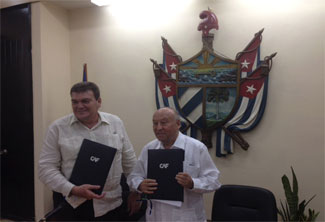 CAF and the Universidad de La Habana will work jointly to generate knowledge for development
La Habana,
April 30, 2015
Both institutions signed a mutual cooperation agreement in La Habana to promote training, study, and applied research to benefit sustainable development and integration in Latin America
Enrique Garcia, Executive President of CAF, Development Bank of Latin America, and Gustavo Cobreiro Suarez, President of the Universidad de La Habana, subscribed a cooperation framework agreement in that city, to develop activities of mutual interest linked to the generation and dissemination of knowledge and the promotion of joint reflection between academics and public policy managers.
Enrique Gracia, CAF's Executive President, stated, "The link between CAF and a wide network of think tanks and universities at a regional and global scale allows it to deepen its task in favor of exchange and generation of knowledge regarding Latin America and the critical factors for its development". He also highlighted the willingness and interest of the Latin American financial institution to work jointly with the Universidad de La Habana to identify the structural challenges and opportunities of the Cuban economy in the current regional and global context.
The subscribed agreement foresees the coordination of research activities and exchange of information, organization of events, joint publications, and other mechanisms agreed upon by both parties.