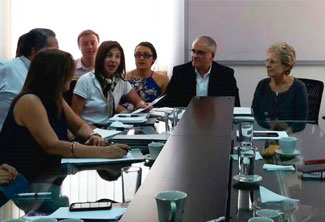 Cali transfroms a handicapp into an ability in the fight against breast cancer
May 05, 2015
With the subscription of a memorandum of understanding for the adaptation and implementation of the Discovering Hands German model in Colombia, the entry into operations of this innovative project advances. It uses the sensorial skills of blind women for the early detection of breast cancer
Considering that breast cancer is the first cause of death of Latin American women, and third in Colombia, Cali's Health Secretariat, the Social Innovation Direction at CAF, Development Bank of Latin America, the Discovering Hands Foundation, the San Juan de Dios Hospital, the Institute for Blind and Deaf Children, the Center for the Rehabilitation of Blind Adults (CRAC, for its acronym in Spanish), and the Universidad Santiago in Cali, ratified their commitment for the execution of the "Manos que Salvan Vidas" (Hands that Save Lives) project. This project adapts the German organization model to improve the systems for the early detection of this disease which is a serious and increasing public health problem in Colombia.
In coming months, after the training material and medical protocols have been translated, two professionals specialized in teaching people with handicaps, selected by the CRAC and the Institute for Blind and Deaf Children, will travel to the cities of Duisburg and Berlin, in Germany, to get training in the Discovering Hands methodology. When they return, the teachers will work jointly with the San Juan de Dios Hospital, especially with the "Consultorio Rosa" (Rose Health Center) where blind women will be trained as "tactile examiners" for the early detection of breast cancer. In a foreseeable future, they will be able to become multipliers of this knowledge.
In words of Harold Suarez, Secretary of Health in Cali and Ana Mercedes Botero, CAF's Director for Social Innovation, this strategic alliance seals a commitment to improve the early detection of breast cancer systems, and to create a source of productive employment for women with visual handicaps in Colombia, a force that has been traditionally excluded for the labor market.