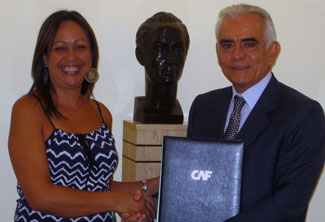 CAF donates equipment to Fundapatrimonio to clean and maintain Los Caobos Park
June 15, 2015
The donation includes FS-250R lawn mowers, SH-56C-E blowers, and HS 81T cutters L
In order to contribute with the maintenance of the cultural heritage of the Libertador Municipality, CAF, Development Bank of Latin America, donated cleaning and maintenance equipment for Los Caobos Park to the Fundación para la Protección y Defensa del Patrimonio Cultural de Caracas (Fundapatrimonio) (Foundation for the Protection and Defense of the Cultural Heritage of Caracas). The donation includes FS-2250R lawn mowers, SH-56C-E blowers, and HS 81T cutters.
Luis Enrique Berrizbeitia, CAF's Executive Vice-President and President of the CAF Marathon Organizing Committee, expressed "We are pleased to contribute to the maintenance and improvement of Los Caobos Park, a space for recreation and sports for the people of Caracas, and a historic icon of the capital. It is also the starting and ending point chosen by CAF in the city for its international Marathon. With this donation we want to recognize the support that we have received from Fundapatrimonio and the Mayor's Office of the Libertador Municipality in the four editions of this sports party that the Institution organizes and sponsors in its headquarter city".
At the same time, Yelena Reyes, Management and Finance Director of the Foundation for the Protection and Defense of the Cultural Heritage of Caracas, was pleased with the donation. "At Fundapatrimonio we appreciate this donation which will significantly contribute to the preservation of public spaces for the enjoyment of the people of Caracas".
In the framework of its comprehensive development agenda, CAF prioritizes initiatives that promote more inclusive cities, which are sustainable for the improvement of the quality of life of its inhabitants.