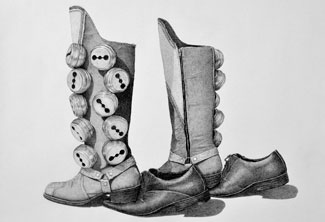 Jose Ballivian draws the daily nature of miscegenation in Bolivia
June 11, 2015
A dozen drawings in pencil and ink on paper detail the artist's personal vision regarding the immersion of the popular in cities with western influence
With a precision that compares to the hands of a clock, Jose Ballivian, visual artist from La Paz, created contemporary drawings with pencil and ink, that reflect his views about the fusion between Andean and Western cultures in daily life. This works will be presented in the exhibition "Oscilacion", which will be inaugurated on June 17th in Artespacio, gallery of art of CAF, Development Bank of Latin America, in La Paz.
Bavillian, who will present 10 works of different sizes in black and white on Canson 220 gram paper, commented, "The exhibition lets you appreciate the concept of oscillation that frames the concept of the drawing as a back and forth action made with pencil over a space, guided by the pulse and rhythm of each artist".
The proposal expresses the integration of traditional elements and customs of Bolivia's Andean cultures to a society that is invaded by Western culture. "These are contrasts that are reflected in daily routines, the union of these two cultures is summarized in miscegenation. My intention is to show this fusion from a contemporary point of view".
Realism of forms and figures stand out in Bavillan's work. "You may find dots, lines, textures that give shape to the ideas that are later embodied in the drawings".
Since 1999 to date, he participated in several joint and individual exhibitions in national and international shows. The subject of his work is based on what is marginal, popular, and mestizo, using tools such as drawing, sculpture, facilities, performance, and video art, all of them from a contemporary view.
He works as an independent curator, specifically with young artists to contribute to their artistic training; he also carries out research on performance, video art, and drawing in Bolivia.
The show may be visited until July 31st in Artespacio CAf, located in Av. Arce Nº 2915 (San Jorge Area), from 09.00 to 12.00 and from 14.30 to 18.00.