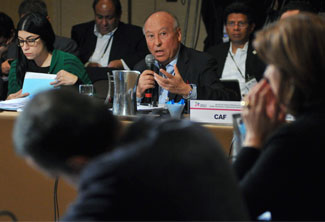 CAF will support the Pacific Alliance Agenda
July 06, 2015
During the X Summit of the Pacific Alliance, Enrique García, CAF's Executive President, expressed the Institution's interest to strengthen cooperation with the countries belonging to this regional integration mechanism
Within the framework of the X Presidential Summit and the Entrepreneurial Summit of the Pacific Alliance, held in Paracas, Peru, between July 1st and July 3rd, Enrique Garcia, Executive President of CAF, Development Bank of Latin America, expressed the Institution's interest in supporting the agenda of this regional integration scheme.
During his presentation " Challenges to improve economic and social competitiveness in the Pacific Alliance", at the Entrepreneurial Summit, in front of close to 500 executives from the region, Enrique Garcia expressed, "We propose the creation of a strategy regarding innovation, support to the Entrepreneurial Observatory that the Alliance is developing, and support for the implementation of an infrastructure fund in the four countries that make up the block".
In addition, the Ministers of Foreign Relations and of Trade of the member countries of this mechanism invited CAF to join in the development of the structuring of the first regional investment vehicle of the Fondo de Capital Emprendedor (Entrepreneurial Capital Fund), seeking to start operations in 2017, so as to accelerate the availability of intelligent capital that invests public and private resources in high impact MSMEs at an early stage, in order to increase the possibility of advancing toward a commercial and entrepreneurial regional integration that promotes economic development in the member countries.
As a result, the countries of the Alliance subscribed the Paracas Declaration where they highlight their satisfaction for CAF's presence in the Summit, trusting that a productive mutual interest relationship will develop.