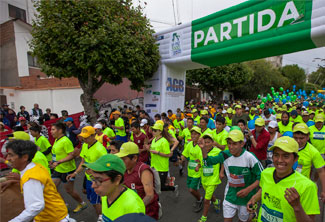 Registrations open for La Paz 3,600 10K
September 02, 2015
The VII edition of the race organized by CAF, the Municipal Autonomous Government of La Paz, and VIVA, will take place on Sunday, October 25th. Registrations will be accepted until Friday, October 23rd.
Registration for the seventh edition of the pedestrian run La Paz 2,600 10K is already open. This year, it supports awareness regarding the severe impact of violence in all its forms on society. The organizers, CAF, Development Bank of Latin America, the Municipal Autonomous Government of La Paz (GAMLP, for its acronym in Spanish), and the telephone company VIVA, together with its VIVA Foundation, invite all the interested athletes and amateurs to be a part of the competition.
Registration may be done on line through www.10klapaz3600.com or showing an Identity Card in the following locations:
CAF (Av. Arce N°2915 corner of Clavijo, San Jorge Zone)
VIVA stores (Tiendas de Experiencia VIVA) at a national level, with free access to internet to register on line
RaceStore (Av. Balliviánesq.C.19 of Calacoto )
Dirección Municipal de Deportes (Municipal Sports Direction) (Av. Mcal. Santa Cruz corner of Colombia, Técnico Municipal building, 11th floor)
This year, the athletes participating in the race will be able to make a voluntary donation of one Dollar (minimum) at the time they pick up their kit in the Runner's Fair, which will take place on October 24th and 25th at CAF facilities. The runner's kit includes the number and official t-shirt (for the first 5,000 runners that reach the Fair).
For each participant's contribution, the race organizers will also donate one Dollar. The resources will be aimed at buying equipment for support centers for victims of gender violence in the framework of the Casas de las Mujeres (Women's Houses) Program of the GAMLP, a social program that seeks to promote the exercise of women's rights in the city of La Paz by means of technical training processes through comprehensive training and creation of empowered women's groups.
The main sponsor of the race is the BISA Financial Group, while Powerade is the hydration supplier, and Princesa's Cereal Mix will be the brand in charge of nutrition. Supporting the initiative are AGB, Imagenbol and RaceStore. Droguería INTI and Gimnasio GO.
For more information, visit the web page www.10klapaz3600.com or access the social networks @lapaz3600_10K in Twitter and Carrera 3600 La Paz in Facebook.