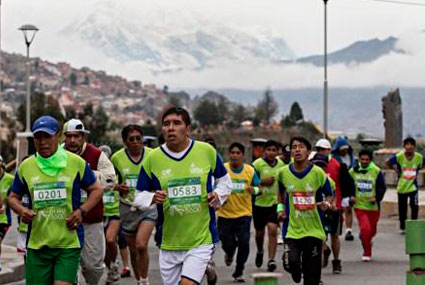 10,000 runners say yes to sports and no to violence
October 26, 2015
Nelson Mamani and Claudia Balderrama were the absolute winners of the seventh edition of the 10K La Paz 3,600 race. Mayor Luis Revilla Herrero kick started the race.
Streets. bridges, and avenues in the city were the stage of the traditional 10K La Paz 3,600 race, organized for the seventh consecutive year by CAF, Development Bank of Latin America, the Autonomous Municipal Government of La Paz (GAMLP, for its acronym in Spanish), and VIVA telephone company and its Viva Foundation.
In addition to showing great physical shape, women, me, young people, and adults, as well as handicapped athletes, raced to support the fight against violence in all its forms. Nelson Mamani and Claudia Balderrama were crowned absolute winners with times of 32 minutes, 56 seconds, and 56 minutes, 05 seconds, respectively.
The runners started at 8:00 at Plaza Villarroel after mayor Luis Revilla Herrero and CAF's Director Representative in Bolivia, Emilio Uquillas, kick started the event. They continued on Busch Avenue and went through streets and avenues of the downtown area of La Paz, El Prado, Sopocachi, and Miraflores. After crossing the Trillizos Bridges, they reached the finish line located at Puente Libertad. The main sponsor of the event is Grupo BISA.
The route was protected by the National Police and the Municipal Guard. During the 10K race, runners enjoyed entertainment points such as rock bands, DJs, and bands of street musicians promoted by the sponsors to cheer the athletes. The first 3,600 runners to complete the race received a commemorative medal and a special refreshment.
In addition, several hydration points were set up, and a mobile cloakroom was introduced this year. At the finish line, first aid tents were installed, together with massage therapists and specialized physiotherapists. The seventh version also had portable bathrooms at the start and at the finish line.
Most runners made a voluntary contribution. CAF will donate a similar amount to that collected, to equip a "women's house" in the framework of the municipal program Women's Houses, a social project that seeks to promote the exercise of women's rights in the city of La Paz.
A noteworthy aspect of this edition of the 10K La Paz 3,600 race is that it seeks to obtain certification as a sustainable event before the Council for Responsible Sports (CRS), an international organization that supports environmental and social benefits in these types of events. This certification improves the sustainability of the race through lines of action aimed at the efficient use of resources, social inclusion, support to the local economy, measurement of the carbon and water footprint of the event, and waste recycling, among other environmental and social aspects.
Powerade provided hydration for the 10K La Paz 3,600 race, and Princesa provided nutrition with its Ceral Mix product. Allies included AGB, Imagenbol and RaceStore. Droguería INTI and Gimnasio GO also supported the initiative.
Final Results
Distance: 10 kilometers (10K)
Absolute Winners
Nelson Mamani (32 minutes 56 seconds)
Claudia Balderrama (38 minutes 05 seconds)
A Category Seniors older than 40 years old (males)
1st. Jaime Plata (37 minutes 01 seconds)
2nd. Jorge Guauki (37minutes 10 seconds)
3rd. Germán Quispe (37 minutes 50 seconds)
A Category Seniors older than 40 years old (females)
1st. Geovanna Morejón (41 minutes 00 seconds)
2nd. Cristina Ticona (45 minutes 32 seconds)
3rd. Guillermina Cuba (50 minutes 05 seconds)
B Category Adults between 20 and 40 years old (males)
1st. Nelson Mamani (32 minutes y 56 seconds)
2nd. Gualberto Castro (33 minutes 00 seconds)
3rd. Edward Chambi (33 minutes 15 seconds)
B Category Older Adults between 20 and 40 years old (females)
1st. Claudia Balderrama (38 minutes 05 seconds)
2nd. Claudia Villalba (40 minutes 50 seconds)
3rd. María Blanco (48 minutes 38 seconds)
C Category Youths younger than 20 years old (males)
1st. Daniel Limachi (34 minutes 52 seconds)
2nd. Javier Macuchapi (35 minutes 12 seconds)
3rd. Walter Gonzales (35 minutes 21 seconds)
C Category Youth younger than 20 years old (females)
1st. Fernanda Ayala (39 minutes 31 seconds)
2nd. Ana Sánchez (42 minutes 21 seconds)
3rd. Arminda Porco (45 minutes 10 seconds)
Distance: 5.2 kilometers (5.2K)
D Category Integrated sports-special handicaps (males)
1st Yeunil Calla (22 minutes 58 seconds)
2nd. Ramiro Chávez (30 minutes 13 seconds)
3rd. Luis Balboa (30 minutes 15 seconds)