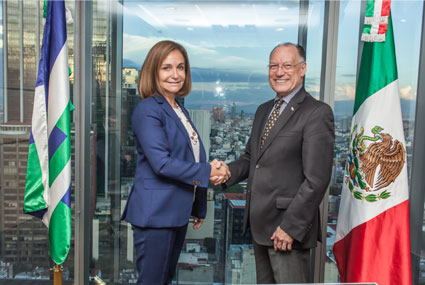 CAF and ProMexico Raise Mexico Stake in Global Economy
November 02, 2015
Both institutions signed a non-refundable technical cooperation agreement to sponsor the "3rd Innovation and Entrepreneurship Forum LAB 4" and the "Pacific Alliance Women Business Leaders Forum"
In order to promote sustainable and inclusive development in Mexico, CAF—development bank of Latin America—and ProMexico, signed a non-refundable technical cooperation agreement to foster Mexico's participation in the global economy, with the "3rd Innovation and Entrepreneurship Forum LAB 4" and the "Pacific Alliance Women Business Leaders Forum."
The agreement provides for events to foster creativity, innovation and entrepreneurship for internationalization and investment among Mexican companies in the region in the Information Technology, Creative Industries and Design sectors. It also seeks to encourage, promote and develop a dynamic trade and investment relationship between Pacific Alliance entrepreneurs through a mentoring process to empower, boost competitiveness, innovation and Internationalization.
ProMexico is the federal government agency responsible for coordinating strategies aimed at expanding Mexico's share in the world economy, supporting exports of Mexico-based companies and coordinating actions aimed at attracting foreign investment.
Thus, CAF supports the productive and financial sectors of its member countries through programs and projects that encourage productive transformation and diversification, promote entrepreneurship, innovation and job creation, and to replicate successful experiences with an impact on public policy-making.