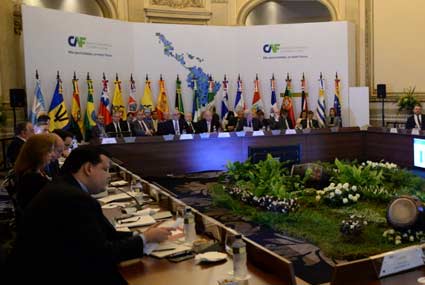 Shareholder countries agree to increase CAF paid-in capital by USD 4.5 billion
November 27, 2015
This increase will allow the institution to approve transactions totalling an approximate of 100 billion USD in the 2016-2022 period.
The Board of Directors of CAF "This decision confirms the confidence our shareholder countries have in us, and allows the institution to further promote strategies and policies to stimulate economic growth, productive transformation, social inclusion, environmental sustainability, and regional integration," said CAF executive president Enrique García.
He also emphasized, "the institution's growing anti-cyclical and catalytic impact, as well as the responsibilities it is called on to shoulder as the region evolves within a changing international context."
This increase in capital will allow for significant operational growth while at the same time ensuring that the institution remains financially sound and reinforcing its role as one of the most important sources of multilateral financing for Latin America.
In this way, CAF will be able to approve transactions for a total of approximately USD 100 billion during the 2016-2022 period.
"This increase in capital is also a positive message to the international capital markets where CAF carries out issuances, which will help to make the resources offered by the institution to its shareholder countries more competitive," affirmed García.