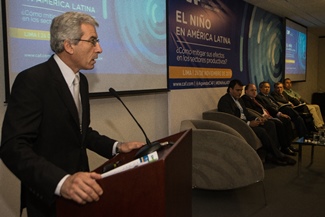 Latin America is one of the regions most affected by the phenomenon of El Niño
December 22, 2015
Eighty percent of Latin Americans live in cities, and the frequency of urban floods increases with the presence of this phenomenon
In the water and sanitation panel, the debate considered the challenges that must be faced in the near future. In addition, it dealt with the subject of how the passing of El Niño could evidence la region's shortages regarding organization and risk management with respect to climate change.
One of the main challenges is that countries must understand that there needs to be a change in paradigm regarding the definition of technical aspects in the design of the water infrastructure works, to better adapt them to the possible effects of climate change and the recurring phenomena affecting the region.
On the other hand, it is also essential to strengthen the institutional framework in the region for a better management of disaster risks. Juan Carlos Bertoni, moderator of this panel, stated "There are institutional and even regulatory aspects that must be adjusted to guarantee that plans are implemented".
Despite the fact that there have been significant advances in the area of monitoring and prediction of climate change, it is necessary that this advances lead to the implementation of internal policies to take advantage of this subject and reduce the impact of climate change on Latin America.
Last but not least, efforts must be made to improve the economic financial aspect of the diverse entities in charge of guaranteeing water, sanitation, and drainage services, as without financing the subject of works cannot be addressed.
During the event, Eleonora Silva Pardo, CAF's Director Representative in Peru, highlighted CAF's participation in the creation of the Centro Internacional de Investigación del Fenómeno de El Niño (International Research Center for the Phenomenon of El Niño) in Ecuador, as a show of interest of the entity to promote risk management for disasters in all of Latin America.
Click here to see all the videos of the presentations.