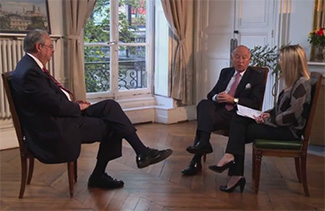 Allan Wagner: Latin America must "see where the opportunities are, in order to improve exports and boost investments."
January 21, 2016
Allan Wagner, Peru's former Minister of Defense and Foreign Affairs, and Enrique Garcia, CAF's executive president, talked about several topics on "Conversando con CAF", including the importance of the region being open to the whole world, the impact of China's slowdown, public safety and educational challenges, and positive developments coming out of the peace agreement in Colombia
Allan Wagner, Peru's former Minister of Defense and Foreign Affairs, addressed the challenges facing the region within an international context marked by a slowdown in China, and stressed the need for the region to diversify its trade ties and move towards a deeper production transformation.
"Currently we play simultaneously on several game boards," Wagner said in a new edition of "Conversando con CAF". "In today's globalized world, we must look at the international community's integrity, and see where the opportunities are, in order to improve exports and boost investments."
According to Wagner, this is one of the great legacies of the process of economic opening up that started in Peru in the '90s. "On one hand, this opening up allowed for the tidying up of the country's macroeconomic imbalances and, on the other hand, it allowed for looking at the outside world and opening up the economy to trade and investment," he said during the interview alongside Enrique Garcia, Executive President of CAF - Development Bank of Latin America.
Meanwhile, Garcia indicated that, even though China's strength was considered a "blessing," especially for South America, in terms of exports and commodity rising prices (which resulted in satisfactory growth in the region and better social indicators), Latin America did not invest in improving its productivity, but rather clung to the traditional economic model based on exporting raw materials.
In that sense, CAF's president argued that the current context "opens up a new window of opportunity" for countries "to make the structural changes that are needed to transform production, based on higher added values, more technology and innovation." Garcia added, "That is the way to enter global production chains more effectively."
The region's challenges in terms of public safety were another central theme during the discussion. Although Wagner said that "the possibility of an armed conflict among our countries can be ruled out," he stressed that there are other problems like drug trafficking and the rise of various forms of organized crime in several countries.
"The concern is that these large gangs begin to infiltrate the institutions of the democratic system, and there may come a time when the institutions serve the interests of these mafias, instead of society and the state. We have to work very hard to avoid that," said Peru's former Minister of Defense, who also highlighted the progress of the peace process in Colombia which, in his opinion, "has entered a straight path towards a resolution."
Garcia also indicated that, in order to reduce violence levels, it is crucial for the region's youth to be able to aspire to better education and to have more opportunities. In that regard, he stressed the significant role that multilateral agencies and development banks such as CAF are called upon to play.
According to CAF's president, "One of the functions is precisely helping countries to have comprehensive, long-term development agendas, and promoting that these inclusive policies are implemented through technical cooperation with governments, and even financing programs and projects intended for processes that change production, improve the infrastructure and enhance education."
To watch the dialogue between Allan Wagner and Enrique Garcia, visit the website www.conversandoconcaf.com and the YouTube channel "Conversando con CAF".