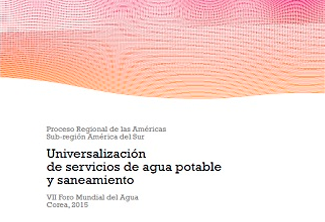 Latin America moves towards a comprehensive management of water
January 15, 2016
Latin America has better water and sanitation conditions than 20 years ago, but it must improve the provision to reach the universalization of these services
In past years, Latin America has significantly improved its water and sanitation systems. A majority of its citizens has access to safe and stable basic services.
In any case, the objective in coming years will be to move toward a comprehensive management of the water resource to improve the quality and security of its supply for the most vulnerable populations.
These are the conclusions of the report "To adopt regulatory mechanisms that ensure the financial sustainability of the provision companies.
The report also points out the need to develop modern information systems with precise indicators to guarantee decision making.
The main challenge that the region must overcome, according to the report, will be to enable economies of scale that ensure the sustainability of services in the cities and, specially, in rural areas.
Decision making, the development of public policies, and investments related to water and sanitation represent a commitment that countries must assume from the highest political levels down to local governments, including service provision companies, and promoting ample participation of the productive sectors and the civil society.
A successful example is the Manchaco Potable Water and Sanitation Entity, in Bolivia. As a result of a common effort between six cities, the company has regional representation, strong management capacity, and economies of scale in its management, ensuring the continuity and sustainability of the services.
Water and sanitation are closely related to national development objectives such as reduction of poverty and a boost to economic progress.
It is essential to focus investments where economic and social benefits are greater, with a comprehensive management that enables, on one hand, to universalize access to water and sanitation, and on the other hand guarantee its quality.