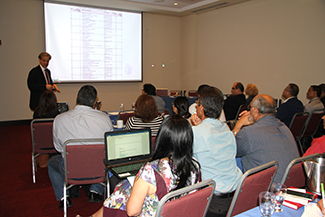 Closing of the First intensive Workshop for the Development of International Patent Applications
February 29, 2016
With this workshop, the Regional Initiative for Technological Patents for Development seeks to promote the generation of international patents coming from the region in order to increase our technological innovation indicators
The Intensive Workshop for the Development of International Technological Patent Applications, held in Panama City from February 22 to 27, was organized by CAF, Development Bank of Latin America, and the Direction of Management and Knowledge Transfer of the Universidad Tecnológica de Panamá (UTP).
After six days of training and 66 hours of instruction and follow-up, 22 applications were obtained for technological patents in technologies prioritized by CAF, jointly with the UTP and the participants. These applications will be submitted to the patenting process of the United States Patent and Trademark Office (USPTO), through the Patent Cooperation Treaty (PCT) during the next two months.
Alvaro Atilano, coordinator of the Regional Initiative of Technological Patents for Development stated "The purpose of this workshop is to provide accelerated training to conceptualize patentable technologies and writing of patent applications to help the Universidad Tecnológica de Panamá become the first institution that generates patents in Ibero-American countries".
Teachers and students of the UTP participated in the workshop, in seven working groups during the training days. Participants slept there, and were provided with offices that were available 24 hours per day.