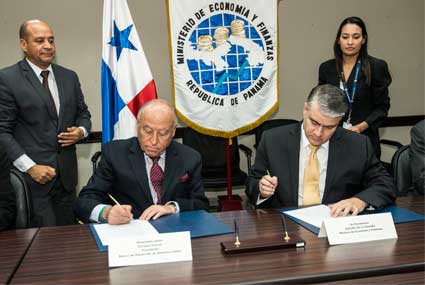 Panama signed capital contribution paid to CAF for USD 190 million
February 02, 2016
The signature of the agreement reflects Panama's commitment with the region's integration progress, joining CAF's Comprehensive Development Agenda
In the framework of the paid capital increase of USD 4.5 billion agreed upon by CAF's Board in 2015, Panama signed the share subscription agreement for USD 190 million. Dulcidio De La Guardia, Minister of Economy and Finance, and Enrique García, CAF's Executive President, signed the agreement today. Payment will start in 2017 and will be completed in 2022.
García commented, "This signature constitutes an effective response from Panama to continue promoting strategies and public policies that stimulate economic growth, productive transformation, social inclusion, environmental sustainability, and the promotion of regional integration. In addition, it contributes to strengthen and expand the Institution's anti-cyclical and catalytic role to provide support to its member countries considering the difficult regional and global context".
At the same time, Minister De La Guardia pointed out that "CAF is one of the multilateral organizations that is actively working for development in Panama. With its contributions, we have partially financed Line 1 of the Metro system, sanitation in the Bay, school infrastructure, water resources, and potable water and sewage, among many other projects that improve the quality of life of Panamanians".
Panama's capital increase, the first country to sign the agreement since its approval in November, in addition to the other partners, will strengthen CAF's capital, allowing the Institution a significant growth of its operations and to preserve its financial soundness and strengthening of its role as one of the most important multilateral sources of financing for Latin America. Thus, CAF may approve operations for an approximate amount of USD 100,000 million during the 2017-2022 period.
In Panama, CAF has been financing road infrastructure projects, mass public transportation, urban mobility, water and sanitation, educational infrastructure, and electric transmission, among other activity sectors in addition to institutional strengthening and best environmental practices, through joint financing and initiatives between the Panamanian State, private institutions, and key institutions that lead to development, growth, education, and inclusion in the country and in Latin America.
Between 2009 and 2014, CAF approved operations in favor of Panama for USD 1.98 billion, aimed at promoting initiatives with a high social and productive impact, and to strengthen the country's financial system.