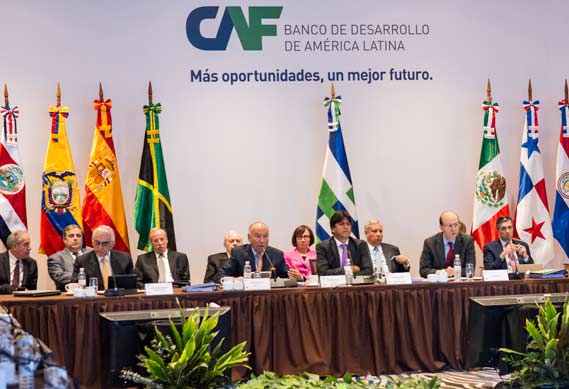 Six countries sign capital contribution paid to CAF for a total of USD 1865.7 billion
March 15, 2016
Argentina, Paraguay, Peru, Dominican Republic, Uruguay and Venezuela signed today the agreement approved by CAF shareholders in November 2015 in order to strengthen the Latin American comprehensive development agenda over the coming years
In the context of the paid-up USD 4.5 billion capital increase, which was unanimously approved by the CAF - development bank of Latin America - Board of Directors in November 2015, Argentina, Paraguay, Peru, Dominican Republic, Uruguay and Venezuela, signed today their corresponding stock subscription agreements for a total amount of USD 1865.7 billion.
Alfonso Prat-Gay, Public Finance Minister of Argentina; Santiago Peña and Simón Lizardo Mézquita, Finance Ministers of the Dominican Republic and Paraguay, respectively; Alfonso Segura, Finance Minister of Argentina of Peru; Rodolfo Medina, Minister of the People's Power for Banking and Finance of Venezuela; and Mario Bergara, President of the Central Bank of Uruguay; along with the CAF executive president, Enrique García; signed the agreements to be added to the one signed by Panama last February. In the coming months, agreements will be drawn up with the other shareholding countries, as they make progress in their respective internal processes.
President García confirmed that "under the current circumstances of the region," these paid-up capital contributions constitute a message of confidence in the countries holding shares in CAF and sends a positive message to the international markets, which also contributes to improving the competitiveness of the resources offered by the institution to its member countries."
Through the increase in equity agreed upon by the shareholders, CAF will continue to support strategies and public policies that stimulate economic growth, productive transformation, social inclusion, environmental sustainability and regional integration. Additionally, it will be able to approve transactions of amounts greater than USD 100 billion in the coming years, preserve its financial stability and strengthen its role as one of the most important sources of multilateral financing in Latin America.