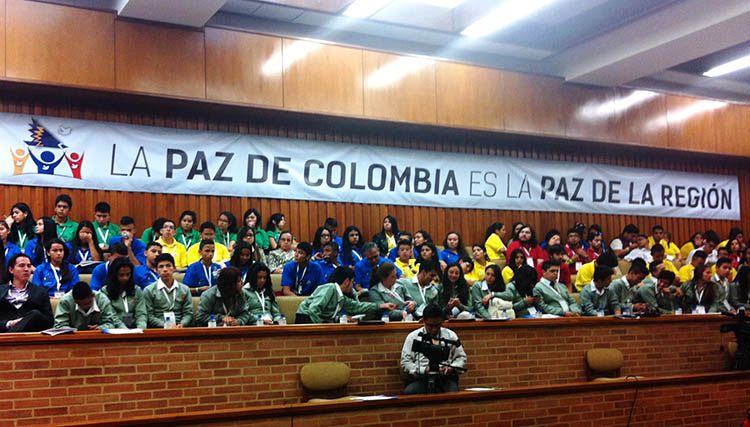 Youths deliver proposal for reconciliation in Colombia and the region
March 29, 2016
With "Peace in Colombia is peace in the region" as a slogan, this meeting enabled the development of diverse initiatives in the areas of security and co-existence, education, reconciliation and forgiveness, employment, and entrepreneurship
In the I Andean Meeting for Young Leaders for Peace and Post-conflict, organized by the Andean Parliament in alliance with CAF, Development Bank of Latin America, and the "Colombia Joven (Young Colombia) Program of the Presidency of the Republic, close to two hundred young members of Parliament and university students between the ages of 13 and 23, met at the Universidad Externado de Colombia to outline their proposals to contribute to reconciliation. Representatives came from Bolivia, Chile, Colombia, Ecuador, and Peru.
Participants had the opportunity to debate and share opinions regarding the current negotiation process developed by the Government of Colombia. The national delegation was made up of youths from the territories affected by violence, many of them victims of the conflict. These young leaders delivered a proposal to the President of the Chamber of Representatives, Alfredo Duque, to work proactively on post-conflict issues.
Carolina España, CAF's Director Representative in Colombia, stated, "This meeting is very important because it helps build from another perspective, such as the evolution of peace and the post-conflict. The ideas sheared here should really contribute to this process".
Nathalie Gerbasi, from CAF's Direction of Institutional Development, added: "It is very meaningful to listen to these young people in this historic moment for the region. It is key to understand what they are living and what their concerns are, to be able to work together to develop public policies that contribute to these types of processes".
The Director of Colombia Joven, Juan Carlos Reyes, stated that he was pleased to see how active the youths of the region are in an event that promoted constructive dialogue regarding youth and peace processes. With the hashtag #Yoporlapazestoydispuesto he committed to provide more and better opportunities for this population.
The meeting, with the slogan Peace in Colombia is Peace in the Region, enabled the development of several proposals in areas such as security and co-existence, education, reconciliation and forgiveness, employment, and entrepreneurship, in order to contribute in areas that are considered a priority when talking about post-conflict, as well as for a positive transformation of the social and political situations in Andean countries.
Senator Luis Fernando Duque García, President of the Andean Parliament, concluded, "This is a wonderful opportunity to share, in different working tables, subjects that will help visualize the future of the Andean youth". This meeting included the participation of Luis Ernesto Gómez, Vice-minister of Employment and Pensions in the Ministry of Labor.