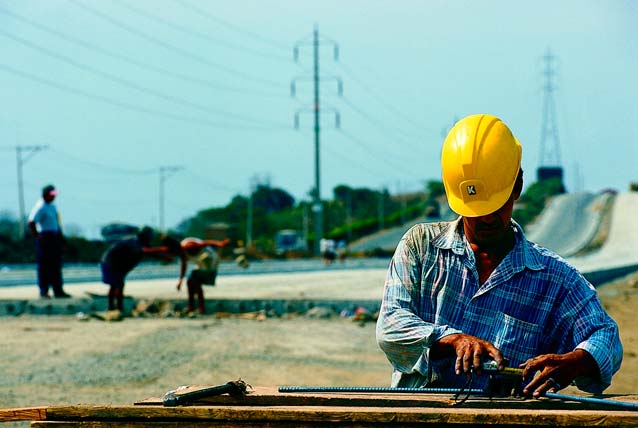 Closing the infrastructure gap to build more inclusive societies
April 08, 2016
In the World Strategic Forum the debate will focus on the challenges that Latin America faces at a time when the world context forces to find new paths to leave uncertainty behind and advance toward prosperity
The world economy is going through uncertain times, and Latin America is not immune. After recovering with strength from the global financial crisis of 2009, the region's economy started losing speed since 2012, achieving a growth of only 1 percent on 2014, Expectations for this year are estimating an expansion below 2 percent.
This less favorable external context has once again evidenced historical macro-economic deficiencies in Latin America, which in times of economic boom had been placed in the background: low productivity, and gaps in infrastructure investments.
Enrique Garcia, Executive President of CAF, Development Bank of Latin America, stated, "Now more than ever it is necessary to promote a productive transformation aimed at inserting our economies in the global production chains to achieve sustainable development with social inclusion".
Productive transformation implies the adoption of two significant strategies: accumulation of more capital, innovation, and technology, as well as a more efficient allocation of productive resources to change from economies based on traditional competitive advantages to diversified models with value added. CAF has always been its greatest driver.
One of the main roads toward this transformation starts by closing the infrastructure investment gap in the region, a subject that will be addressed during the Sixth World Strategic Forum 2016, which will be held on April 11th and 12th in Miami, with the presence of Enrique Garcia and a series of panelists that will debate about the challenges faced by the region.
Garcia stated that Latin America has advanced in the development of infrastructure, but progress has been unequal between countries and sectors.
The most recent data available reveal that advances have had a considerable lower pace than necessary: growth reaches around 3 percent of GDP, below the 5 percent required to close the gap, and the 6 percent achieved in Asia.
The challenge is how to finance these works, a challenge that implies having innovative financing methods to reduce the dependence on public funds, especially at a time when the governments of the region do not have additional resoures available.
Jorge Kogan, Senior Advisor at CAF's Vice-presidency of Infrastructure stated, "Commercial banks, with the restrictions imposed through the Basel Accords, now have limitations, so other institutional funds, such as penison funds, have to be found. The role of these investors is crucial. Without these funds it will not be possible to close the gap in investments in infrastructure in the region".
Multilateral development banks play a significant role to attract capital, as the agreements they have with governments are protected and guaranteed, providing trust to these funds which by nature are conservative.
In the case of CAF, the bank also works to promote innovative solutions to multiply the available funds for infrastructure projects in Latin America.
The creation of CAF Asset Management to promote senior debt trust funds to channel the larger demand of the private sector, especially from institutional investors such as pension fund administrators, is an example of this.
Kogan explained, "These are mechanisms to attract capitals that are available worldwide, to have these funds change from where they are to investments in infrastructure".
However, the road is not free of obstacles.
The main limitation is the lack of institutional and legal conditions that are adequate for the countries in the region. The second limitation is closely related to the first.
Kogan states, "The funds are in the market and looking for projects, but countries have to make their homework to improve the quality of the institutions and their regulations, and have good projects to attract these funds".
These are enough reasons to promote productive transformation.