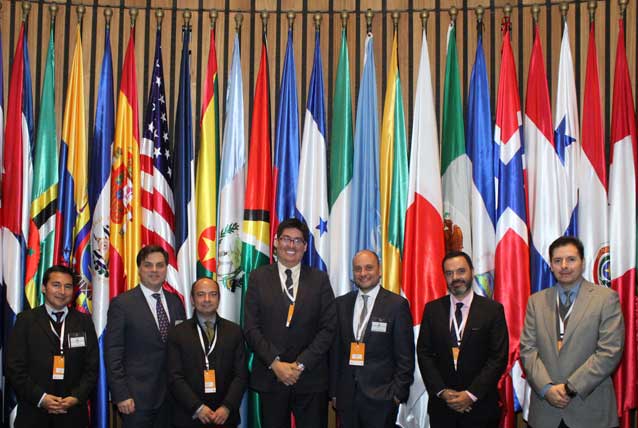 Launching of the Training in Digital Ecosystem Program (CE-Digital)
April 26, 2016
The launching o f the CD-Digital initiative was held in Santiago, Chile. CAF, Development Bank of Latin America, and the Economic Commission for Latin America and the Caribbean (ECLAC) in its role as technical secretariat of the eLAC and GSMA organized the event
The Objective of CE-Digital is to offer training opportunities to officials from regulatory agencies and those in charge of developing public policies regarding information and communications technologies (ICT) in the countries of South America. The presentation, held on Monday, April 25th, included the participation of the Under-Secretary of Telecommunications of Chile, Pedro Huichalaf.
Other participants included Fernando Rojas, Coordinator of the Broad Band Regional Observatory at ECLAC, Mauricio Agudelo, Specialist in Telecommunications at CAF, and Sebastián Cabello, Head of Latin America for the GSMA. Pedro Huichalaf, Under-Secretary of Telecommunications of Chile, presented Chile's status regarding telecommunications.
In his inaugural speech, Fernando Rojas highlighted the important role played by new technologies in the economic and social development of the region, as well as for the increase of inclusion and equity. "Promoting the development of ICTs in the region is essential, and presents constant challenges to reduce the gaps with developed nations. For this reason, public policies and regulations must evolve together with these challenges and, it is in this context, that CE-Digital is presented as a tool to promote the development of these technologies".
Mauricio Agudelo emphasized that the program "will be an instrument to strengthen the skills of policy makers and regulators in the region, thanks to the courses that are at the frontier of knowledge". Sebastián Cabello agreed with this statement, adding that the relevance of a program such as CE-Digital is to promote a better regulatory understanding that helps connect everything and everyone to a better future.
During this week, two courses will be held during four days, focused on "Competition policies in the digital era" and "The Internet of things". The first will be in charge of telecommunications expert Ernesto Flores-Roux, who will provide a basis for the comprehension of competition rules and the regulatory powers applied to the telecommunications sector, in the framework of a wider competitive environment. The latter will be in charge of Stefano Nicoletti, M2M Regulatory Manager of the GSMA, who will show the benefits that the Internet of things can contribute to citizens, consumers, and companies, and its regulatory implications.
The courses will include more than 50 participants from different ministries, under-secretariats, and universities of the region.