The good bureaucrat and motivation for public service
April 04, 2016
All public policies are implemented through a bureaucracy. Therefore, to achieve a better provision of goods and services it is key to have a quality bureaucracy. Thus, the State must focus its efforts on attracting and keeping appropriate, honest, and motivated employees.
The two first requirements seem unquestionable. The appropriateness of a bureaucrat, that is, the correspondence between the qualifications of a public official and the tasks assigned is essential to provide quality public services. The same applies for honesty. Impunity, acceptance of dishonest behaviors, and the absence of internal control mechanisms are a mix that may easily lead dishonest public officials to corruption, affecting development.
To have able and honest bureaucrats may not be enough. This article suggests that a third requirement for a good bureaucrat is motivation, specifically motivation for public service. People perform their jobs for two types of motivations: extrinsic motivations, linked to a compensation, pecuniary or not; and intrinsic motivations, originated in the pleasure, interest, or sense of purpose derived from a particular activity.
According to several studies, people with high motivation for public service have a more altruistic orientation and more interest for social service, which leads to a better performance in public organizations. In addition, when these motivations exist, they have important implications for the selection, remuneration, and retention of human resources in public organizations.
Do public employees have greater motivation for public service than employees in the private sector?
Two questions of the World Values Survey help answer this question. The survey asks how much do they agree with the following statements: "It is important to do things for the good of society" (measurement of social motivation), and "It is important to help people who are close, be concernd about their wellbeing" (measurement of altruism).
To analyze if public employees are different from private sector employees with respect to their motivations for public service, the average answers may be compared by sector of employment, separating the effect that other characteristics may have on motivations (for example the level of education, age, gender, etc.). The analysis was carried out for eight countries of Latin America: Argentina, Brazil, Chile, Colombia, Ecuador, Mexico, Peru, and Uruguay, which were included in the last survey carried out between 2010 and 2012.
Result: In the Latin American region as a whole, public workers seem to have a greater social motivation than their peers in the private sector. The difference in the altruism measurement is also positive, although not statistically significant. For the case of Colombia, public workers seem to have a greater social motivation and greater altruism compared to private sector workers, and in both cases these differences are statistically significant.
In contrast, in high income countries that belong to the OECD as well as those that do not belong, the difference in the intrinsic motivations between public and private sector workers, after taking into consideration other employee characteristics, is greater that in the region as a whole. Latin America seems to have a large room for improvement in terms of attracting and keeping workers with greater social motivation and altruism.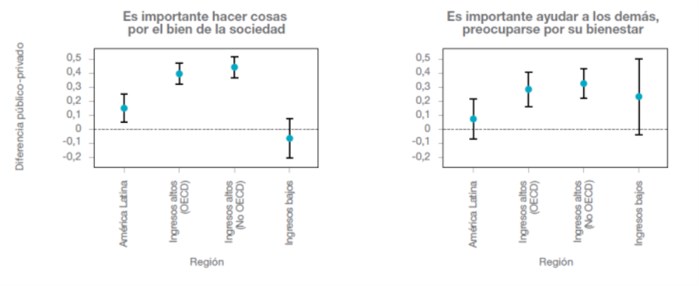 a/ The graph shows the average conditioned differences and confidence intervals of 95 percent, estimated by ordinary least squares in two measurements of motivations toward public service between public and private employees. This was controlled by gender, age, and educational level. The two motivation measurements used vary between 1 and 6, where a greater value is associated to greater motivation.
b/ The OECD high-income countries include Australia, Germany, Japan, South Korea, New Zealand, Poland, Slovenia, Spain, Sweden, and the United States. High income countries that do not belong to the OECD include: Bahrain, Cyprus, Estonia, Kuwait, Qatar, Singapore, and Trinidad & Tobago. Low-income countries include: Ghana, Kyrgyzstan, Rwanda, and Zimbabwe. The countries of Latin America and the Caribbean include: Argentina, Brazil, Chile, Colombia, Ecuador, Mexico, Peru, and Uruguay.
Source: Own creation based on data from the World Values Survey onda 6 (2010-2014).
The Reporte de Economía y Desarrollo 2015 (RED) (Economy and Development Report), developed by CAF, Development Bank of Latin America, shows evidence that intrinsic motivations are an important determinant of the effort and ethical behavior of workers, especially in the public sector. It is therefore important to use them to identify and select adequate workers for the public sector, without abandoning the institutional arrangements that encourage effort or condition dishonest practices in general.