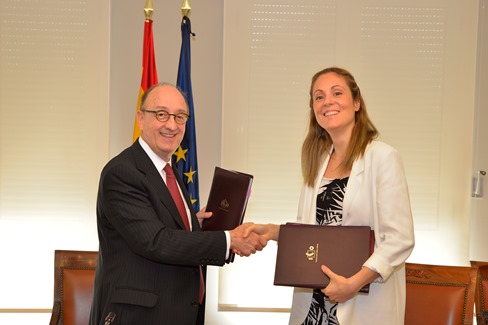 ICO will lend CAF 300 million to promote the internationalization of Spanish companies
July 21, 2016
This is the first loan signed in the framework of the new ICO product to finance Spanish SME's with the mediation of the International Banking System. CAF will channel ICO's financing through local financial entities that collaborate with the multilateral bank
The President of the Instituto de Crédito Oficial (ICO) (Official Credit Institute) Emma Navarro and the Director for Europe of CAF, Development Bank of Latin America, Guillermo Fernández de Soto, signed a loan approved for CAF for USD 300 million, aimed at financing investment projects and liquidity needs, as well as medium and long-term exports of Spanish enterprises to Latin American countries.
This is the first loan approved by ICO's new financing program for the International Banking System. Through this operation, ICO provides funds to CAF, aimed at companies with Spanish interests in Latin America. CAF will channel these resources through financial entities in different countries of Latin America that collaborate with the multilateral institution.
The loans that consolidate with Spanish interest enterprises, aimed at investment or liquidity, will amount to a maximum of EUR 12.5 million, while those aimed at exports can reach EUR 25 million or its counter value in the corresponding currency. The amortization and waiting periods will be agreed upon between the local financial entities that collaborate with CAF and the beneficiary enterprises with a Spanish interest.
The President of ICO, Emma Navarro, stated at the time of the signature of the agreement that "this new financing scheme will allow ICO to continue supporting the foreign expansion of Spanish enterprises, a strategic axis of our activity, in line with the structural change that internationalization has meant to our economy".
At the same time, CAF's Director for Europe, Guillermo Fernández de Soto, stated, "Spain is a key country for the region, among other reasons, because of the strength and experience of its companies in sectors of maximum interest for economic and sustainable development in CAF's member countries. At the same time, Latin America is a key region for the Spanish entrepreneurial weave, where it generates an important part of its benefits. For this reason, today ICO activates a line of credit for USD 300 million so that CAF, through regional banks, can finance Spanish enterprises that have at least 30 percent of Spanish capital, and who wish to undertake investment projects in Latin America and the Caribbean. The presence of Spanish enterprises in Latin America promotes competitiveness and productivity, as a result of improvements in the standards of quality and the exchange of knowledge and experience generated when relevant international enterprises operate at a local level".
Due to the efforts carried out in past years, ICO's international credit activity has significantly increased, from 2 percent in 2012 to more than 35 percent in 2015.
ICO-CAF Collaboration
ICO and CAF have collaborated since 1998 through different agreements, with the objective of strengthening entrepreneurial relations between Spain and Latin America, in order to favor the internationalization of Spanish enterprises.