What it Takes to Expand Broadband in Latin America
Manizales, Colombia,
April 04, 2017
The 7th ITU Green Standards Week was launched on April 3, in the city of Manizales, Colombia, with the start of the 17th Ibero-American Meeting of Digital Cities organized by ASIET.
Mauricio Agudelo, senior specialist in Telecommunications, Media and Digital Technologies at CAF, presented a new study by CAF—development bank of Latin America—and the Center for Telecommunications Studies of Latin America (cet.la) in collaboration with Deloitte.
The study "Identification of best practices in cities for broadband expansion in Latin America" aims to identify the main barriers and best practices in Latin America in the area of telecom infrastructure deployment. In addition, the study is intended to provide a set of recommendations based on international best practices with the aim of minimizing barriers on investment in this type of infrastructure facing telecom operators.
Noteworthy is that broadband and telecommunications services are not a static concept. To the contrary, user preferences determine the needs, which in turn evolve over time and based on the geographical area under analysis.
Furthermore, the research aims to advance other CAF-funded projects that seek to identify the causes of the digital divide still impacting Latin America, where half of the population remains with no access to high-speed internet and where socio-economic benefits of connectivity and digital development are not yet fully developed.
Specifically, a previous study on Latin America found that in the context of a rapidly growing number of digital users and data volume and traffic, the existing infrastructure is insufficient. The same study estimated that in order to meet the mobile broadband demand and expand coverage in Colombia over the next five years, some 19,000 new telecom antennas need to be installed, 40,000 in Mexico and 13,000 in Peru, which calls for a USD 24.3-billion investment in these countries alone.
The importance of telecommunications and connectivity lies in the positive external impact generated by broadband development. In addition to the direct impact based on increased broadband penetration as a result of expanded coverage and service offerings, broadband development brings about economic and productive benefits.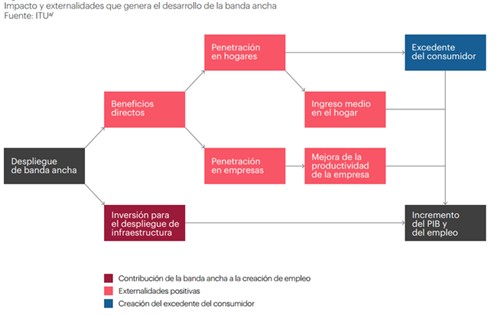 Governments in various Latin American countries are aware of the importance of broadband development and digitization, and have devised broadband plans that include telecom infrastructure investment initiatives, adapting national regulatory frameworks and/or promoting broadband use and deployment. However, many important barriers emerge in the second phase, during infrastructure project implementation planning.
The goal here is to identify the economic, administrative or social aspects which cities need to improve in order to design a strategy that promotes the development of this type of infrastructure. Lastly, after collecting data, a readiness index for deployment of telecommunications infrastructure is developed in order to assess barriers and survey indicators on the status of a group of Latin American cities versus best practices in the sector.