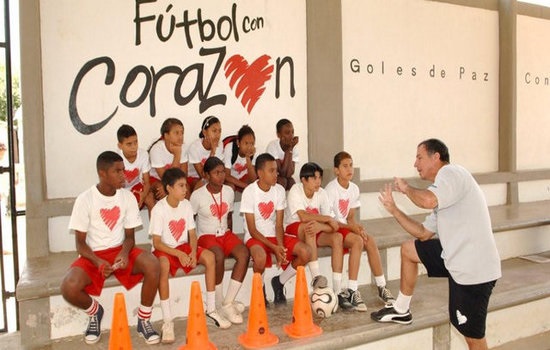 Soccer with Heart: measuring the goals that change lives
A study conducted by CAF seeks to ascertain the importance of soccer in developing socio-emotional skills and other measures of health and well-being in children and adolescents
The Soccer with Heart program (FCC), which promotes sex equality and staying in formal education through sport, underwent an impact assessment by CAF to learn how its activities affect the lives of vulnerable children and adolescents, and to analyze how to improve socio-emotional skills or the perception of gender roles through playing soccer. 
Preliminary results show an improved attitude towards school in children between the ages of 5 and 10, but a worse attitude in children aged between 14 and 17. Additionally, self-esteem seems to improve in children between the ages of 8 and 10, as well as physical self-concept in boys aged 14 and over.
Furthermore, the perception of gender roles improves substantially in children aged between 11 and 13, a conclusion that seems convincing based on the fact that results are obtained from both parents and children.
What is of particular note is that there is a considerable increase in physical activity at all ages, which indicates that without the FCC, children would not exercise regularly. There is extensive literature on the many health and cognitive development benefits to be gained by regularly indulging in sport.
Other preliminary results show that, apparently, younger children are more exposed to risks (taking drugs, smoking and drinking alcohol) in their environment. This could be due to the fact that the FCC encourages these children to go out more often (to attend training), whereas they usually stay at home. It may also be that children are more aware of these risks because of what they have learned from the FCC, so now they mention them more.
Lastly, it showed that girls spend less of their weekend on less productive activities such as going to the mall, playing video games or looking after other members of the family.
These results show that this sporting undertaking is a promising venture and, therefore, can continue producing positive results. The CAF team will continue analyzing the results of this study as well as conducting similar research in order to better understand and produce evidence about the conditions and contexts that will allow us to take full advantage of soccer's positive influence on development. 
How the study was conducted
The study was conducted over two years and included 1,649 children between the ages of 5 and 17, randomly divided into two groups, a control group with 699 children and a treatment group with 950 children who participated in FCC activities.
The children selected for the treatment group attended soccer training, which is built on a non-competitive educational model that seeks to impart values and enhance skills for coexistence, as well as promoting health and a life project. A qualitative study was also carried out to understand communication channels and mechanisms and to explore the differences between competitive and non-competitive educational strategies.