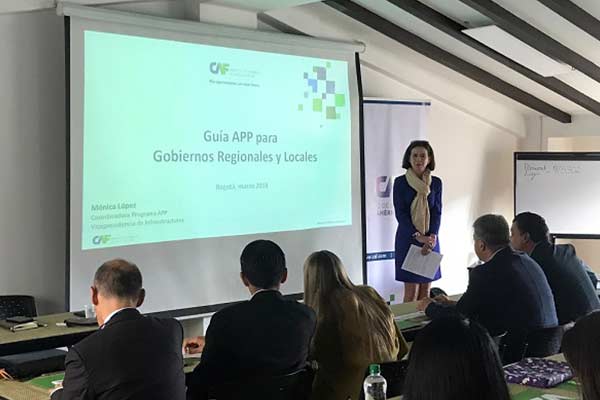 PPPs as a Development Tool for Latin America
Bogotá / Colombia,
March 21, 2018
The Workshop on Public-Private Partnerships was held in Bogotá on March 13–14, which introduced the PPP guide for regional and local governments and use of the model in urban settings.
"Public Private Partnerships (PPPs) are a tool that can help keep up the pace of investment and execution of infrastructure and development projects that are key to maintaining the quality of life for millions of Latin Americans," said Carolina España, CAF representative in Colombia, during the Workshop on Public Private Partnerships held on March 13–14 in Bogota, which introduced regional and local governments to the PPP guide and the use of the model in urban settings.
The purpose of this workshop was to introduce the basic concepts of Public-Private Partnerships (PPPs) to the leaders of national, regional and local administrations in Latin America and how they should be coupled with strategic planning instruments for urban settings.
The meeting was also attended by members of companies and organizations such as: Fonade, DNP, Soacha Municipality, Bogota Planning Department, Ministry of Finance, Invías, Ministry of Housing, EPM, among others.
The presentations were delivered by two specialists in the field:
Miquel Rodríguez Planas: Manager of the IESE Business School PPRSC Research Center. He is co-author of various case studies on Public-Private Partnerships, and the CAF Guide on Public-Private Partnerships for Regional and Local Governments for Latin America.
Rafael Pérez Feito: Director of International Operations at FCC Aqualia. He also is part of several Boards of Directors and Supervisory Boards in the Czech Republic, Spain and Italy.
The methodology used in the workshop was based on presentations of real-life cases of PPPs, which identified important concepts to be considered in the implementation of such partnerships, as well as an active involvement methodology developed through various group activities while analyzing the cases.