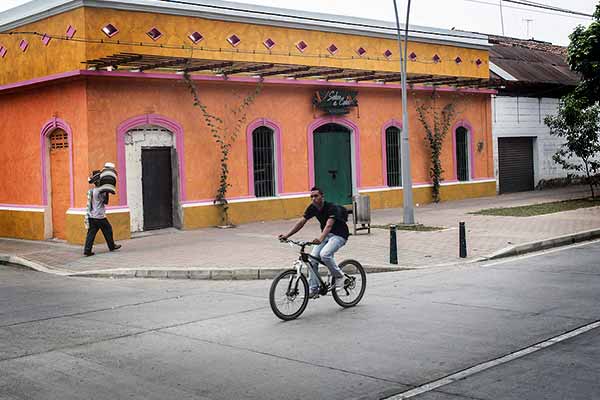 Colombia committed to sustainable transportation for medium-sized cities
Bogotá / Colombia,
June 29, 2018
The program "Sustainable transport for medium-sized cities," designed by CAF-development bank of Latin America- and the Ministry of Transport, and financed by the Green Climate Fund, aims to reduced greenhouse gas emissions by implementing more efficient public and private transport modes.
The transport sector accounts for 12% of total greenhouse gas emissions in Colombia – the third largest emitter after the agricultural and energy sectors. With some cities in permanent expansion (there are currently 27 medium-sized cities with more than 250,000 inhabitants and this figure is expected to grow to 69 by 2050), it has become increasingly urgent to implement a friendlier and community-oriented public transportation system that ensures high air quality, reduces traffic, and improves accessibility.
The Colombian government has understood the urgency of this issue since the beginning of the new millennium, promoting and co-financing strategic public transport systems to render transportation more efficient and integrated. The Ministry of Transport has been implementing the national urban transportation policy (PNTU) since 2002, with investments amounting to USD 5.6 billion in 15 cities across the nation. However, after 15 years of implementation, private motorization rates have continued to grow, making cities less accessible, more congested, unsafe and polluted. The situation is exacerbated when population growth rates are high.
To counter this phenomenon, CAF-development bank of Latin America- and the Ministry of Transport launched today the program titled "Sustainable transport for medium-sized cities: Pasto, Pereira, Montería and Valledupar," financed by the Green Climate Fund (GCF), which aims to reduce greenhouse gas (GHG) emissions by adopting more efficient public and private modes of transportation.
The meeting was attended by the Vice Minister of Transport Andrés Chaves, representatives of CAF, and authorities of the project's four beneficiary cities. The GCF approved preparation funds amounting to USD 1.4 million to conduct a detailed survey in each city, as well as five cross-sectional studies to carry out feasibility analyses and design projects to be financed with program funds.
In this regard, the Vice Minister of Transport Andrés Chaves claims that "the country still faces great challenges in terms of growth and urban development, and these initiatives not only help overcome them, but also help build friendlier cities and happier citizens." 
The program is expected to generate projects that promote a shift towards more sustainable modes of transportation, such as public transport systems and non-motorized transport.
Similarly, investments will also be used to develop and deploy a strategy for transport demand management, as well as urban transit-oriented development (TOD) strategies. This also includes components of road safety, communications, gender perspective, and environmental and social management.
The project seeks to reduce CO2e by at least 500,000 tons by 2030, in addition to providing benefits associated with better quality of life, access to public and non-motorized transport, higher road safety, less fossil fuel consumption, and urban planning.
The common denominator of the chosen cities is the relatively high and increasing rates of motorization, urban population growth and urban expansion trends in the medium-term. They are also vibrant urban centers with sustainable transport policies, positive finance and with governments willing to facilitate the integration of change. 
What will we do in each city?
In Pasto, the program will support local efforts to promote the use of bicycles, and increase or maintain the share of public transport in the total number of trips.
In Pereira, a city with a Bus Rapid Transit (BRT) system, the challenge is to interconnect transport modes so the BRT can reach target occupancy rates. Other strategies will target integration between public and private transport, cable-car mobility alternatives, and more bicycle lanes.
In Montería, the Monteria Amable transportation system will be integrated into additional river-based transportation routes and the newly implemented bicycle lane. Other projects will focus on the generation of infrastructure and services to promote the use of non-motorized modes of transport and demand management.
In Valledupar, the slow traffic and intermodal areas will be the strategy used to encourage the use of vehicles, bicycles and walking near activity centers.
This is one of the pioneering urban transport programs presented to the Green Climate Fund with potential for replicability in medium-sized cities in Latin America. With the use of these pre-investment funds we expect to generate a solid proposal to access additional funds from the GCF and CAF of up to USD 50 million to implement projects arising from this program, ultimately shifting the paradigm in urban development and mobility.