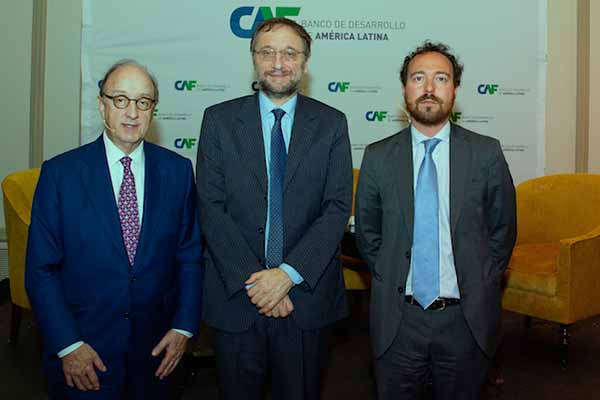 Latin America better prepared to deal with global risks
Madrid, España,
June 20, 2018
Financial and commercial changes are the main challenges currently faced by the Spanish and Latin American economies.
CAF -development bank of Latin America- organized the Superdolar breakfast symposium in Madrid entitled: "Consequences for Latin America and Europe", a forum to discuss factors affecting Latin America and Spain.
After a few words of welcome from CAF's Corporate Director of , Guillermo Fernández de Soto, speeches were given by Pablo Sanguinetti, CAF's Corporate Director of Economic Analysis and Know-how for Development, and Federico Steinberg, Senior Economic Researcher of the Real Instituto Elcano and lecturer at the University of Madrid.
Given the current economic situation, marked by tariff protectionism in the United States and expansion in China, both experts presented their analyses and proposals for both sides of the Atlantic.
Both Sanguinetti and Steinberg agreed that the economies of all countries had accelerated in a synchronized manner as of 2017, and that certain consolidation was now needed in a scenario that is not exempt from commercial and financial risks.  
CAF's economic analyst discussed the challenges faced by growth in Latin America, including "the need for progress in tax consolidation and strengthening structural weaknesses such as low productivity". Given the possible increase in interest rates that may cause financial disturbances and raise protectionist barriers in international trade, brought about by the United States, Sanguinetti said that "most Latin American countries are now in a better position to meet these challenges as they have taken the necessary measures during this time of increased growth."
Productivity was one of the issues that Sanguinetti highlighted in his speech as the main cause of weak growth in Latin America that "prevents the region's economies from converging to a higher level of per capita income". He went on to say that "although the region has done its bit in macro terms, there are dark clouds on the horizon that it must face".
The Instituto Elcano researcher comments that "After a tough decade, we are finally seeing strong, synchronized and global economic growth. "Spain has grown substantially, a trend that should continue, unless the situation in Italy and the trade war bring back a crisis situation." Steinberg believes that the major challenges facing Spain are unemployment, inequality and the existence of groups at risk of being excluded, "a situation that a country like Spain should not allow", he said.
After the speeches of Sanguinetti and Steinberg, there was period of discussion among those attending the breakfast symposium, including directors of local and international companies and experts in the financial industry.