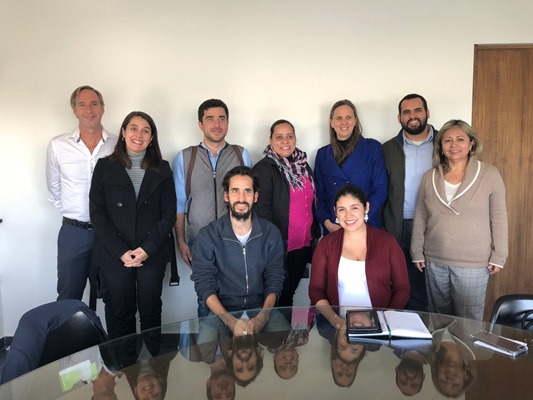 GlobalizerX: Scaling the impact of Paraguay's social innovators
Asunción / Paraguay,
July 31, 2018
CAF-development bank of Latin America- and KOGA supported the launch of GlobalizerX – a program for social innovation developed by Ashoka to provide support and strategic connections to social entrepreneurs in Paraguay, in order to scale their impact both regionally and globally.
The GlobalizerX Paraguay program was launched this week, bringing together five social entrepreneurs from the country who will work alongside a team of mentors to build expansion strategies based on their projects, focused on promoting systemic changes. The program's results will be presented in March 2019. The initiative was created by Ashoka, an organization that has been promoting entrepreneurial culture and social innovation around the world for the past three decades.
This year, the selected innovators are Mateo Acosta (Po Paraguay), Gustavo Díaz and Joe Giménez (El Cántaro Almacén de Arte), Agustín Carrizosa (Information and Resource Center for Development), María José Cabezudo (Saraki Foundation), and Luis Godoy (Community Architecture Office), who will work alongside a team of expert advisors for three months to draw up an expansion strategy for their business models. This team of mentors will be composed of experts with different profiles, including entrepreneurs, academics and consultants.
"As a strategic partner of Ashoka, CAF-development bank of Latin America- supports Globalizer events in the region. This allows us to work together and create instances to test models and dynamics that help develop useful and sustainable solutions to Latin America's social challenges, strengthening enterprises with potential to "transform social realities in the region and respond to social inclusion challenges of vulnerable groups," said Ana Mercedes Botero, Director of Social innovation of CAF.
According to Daniela Kreimer, Director of Ashoka-Argentina, Uruguay and Paraguay: "GlobalizerX supports Ashoka's social entrepreneurs to scale their impact based on the valuable advice of professionals from the private sector."  For the first time, we will have entrepreneurs outside the network, but with projects that have the potential to bring about changes on a national and regional scale."
For the past eight years, 240 Ashoka social entrepreneurs from 35 countries have enhanced their strategies to achieve regional and global impact through the Globalizer program. More than 500 business leaders and experts have participated in 20 Globalizer processes to strengthen expansion strategies and open doors to key contacts at global level for the implementation of these initiatives.
The GlobalizerX Summit will take place in March 2019 in Asunción, where each entrepreneur will have an opportunity to present their strategic expansion plan, propose solutions to challenges and network with prominent businessmen and social entrepreneurs to promote impact expansion plans.