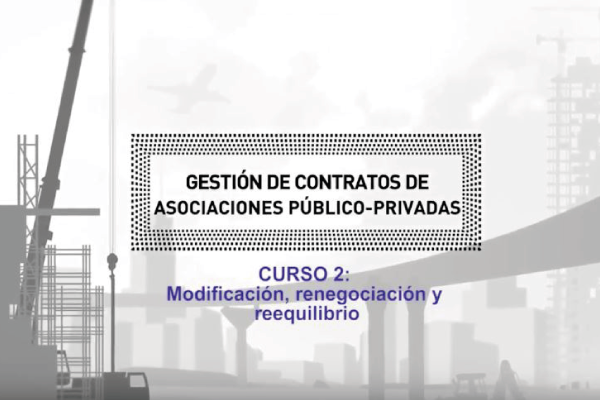 CAF's free online course on modification, renegotiation and rebalancing of PPP contracts
Caracas / Venezuela,
August 09, 2018
Over 8,000 participants in previous courses on Public-Private Partnership (PPP) contract management reveal the importance of this issue in the region. Therefore, CAF-development bank of Latin America- launched a new MOOC where the first 30 students to complete and pass the course may obtain their certificate of completion free of charge.
To contribute to sustainable development and to reinforce institutions in the region, CAF-development bank of Latin America- is offering a new open, free, online course (MOOC), specializing in Public-Private Partnership (PPP) contract management, following on from the previous courses held recently with over 8,000 participants. This time, emphasis will be placed on the modification, renegotiation and rebalancing of contracts.
The first module in this course developed by CAF's specialists and international experts on PPP will explain how to approach contract modifications, renegotiations and rebalancing; how to anticipate materialization of contract risks; the tools available and how to use them. In the second module, participants will discuss how to react to materialization of risks and learn how to assess impacts and trade-offs.
Enrollment will be open until August 21, date on which the course is scheduled to begin. The course approach is very practical and dynamic, combining educational texts, recommendations, examples, videos, case studies, exercises, recommended reading and evaluations. This free, online, three-week course can be completed in only 16 hours of study, allowing it to be pursued concurrently with work duties.
This initiative targets professionals involved in the following areas of the public and private sectors: agencies responsible for overseeing and regulating PPP contracts; contractors, investors and project developers; government agencies; professional associations; as well as students and teachers involved in the area.
At the end of the course and after having completed 75% of each mandatory activity, students will receive a certificate of participation, free of charge. If students wish to receive a completion certificate, they must complete 100% of each mandatory activity and pay 40 euros. The first 30 students to successfully complete the course will receive CAF grants and their completion certificate free of charge. Students must enter the following code when paying for the certificate: JIPQIXHB
Go to the course website for more information and to register.