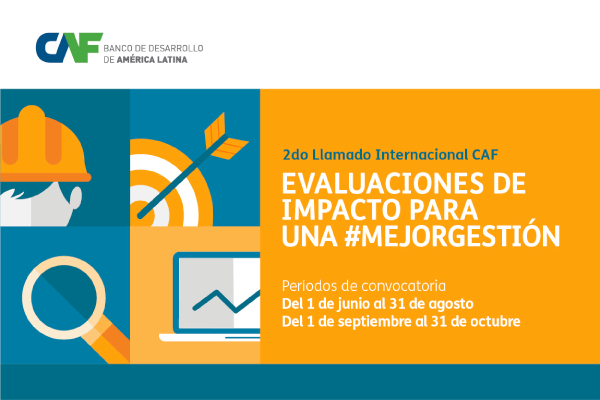 Deadline to apply for CAF's 2nd Call for Proposals of Impact Assessments for #BetterManagement extended
Caracas / Venezuela,
August 03, 2018
At the request of the participants, institutions interested in entering management programs or initiatives in the call for proposals may apply until August 31. Ten proposals will be selected to receive technical, logistical and financial support by CAF to design and implement impact assessments of the highest scientific rigor.  
The 2nd International Call for Proposals on Impact Assessment for #BetterManagement promoted by CAF-development bank of Latin America- seeks to provide technical knowledge, logistics and financial resources, in order to support public institutions that are committed to improving efficiency and adding value to the population or their organizations, through lessons learned from their management processes. The 10 winning institutions will receive support from a team of experts to design and implement a rigorous impact assessment of the programs they have proposed.
The deadline of the first window was extended until August 31 in order to allow more institutions to participate in the assessment process this year (2018). The second window will open from September 1 until October 31.
Eligible proposals are policies with clear actions that directly benefit individuals or groups of individuals, and institutions that wish to improve their management processes, with special priority to projects in the areas of: infrastructure, competitiveness, productivity, financial inclusion, water and sewerage, social inclusion of vulnerable populations, education, food, public management and modernization of the State.
At CAF, we believe that in order to achieve a more efficient management of public funds we need to know what works and what doesn't, through rigorous impact assessments. Therefore, we are making our resources available in search of better, more efficient public services.
For more information, go to our microsite and follow our publications on Twitter (@AgendaCAF) and Facebook (CAF. America.Latina).