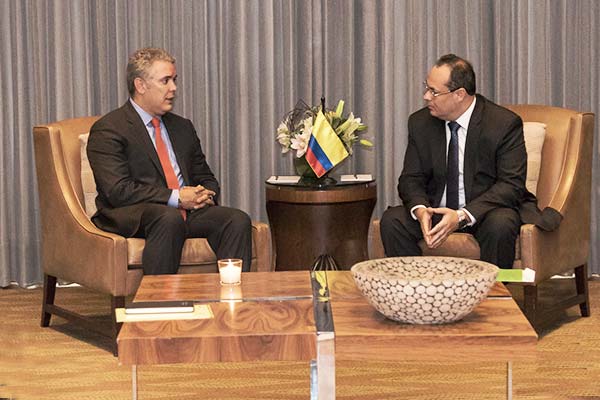 Colombian President to kick off CAF Conference: Productivity and Innovation for Development
Bogotá / Colombia,
October 30, 2018
On November 7-8, 500 global leaders will meet in Bogota to discuss the major challenges facing Latin America, with a view to advancing a comprehensive agenda on productivity and innovation to drive growth and development.
The President of Colombia, Iván Duque, together with the executive president of CAF-development bank of Latin America-, Luis Carranza, will kick off the debate on the CAF Conference: Productivity and Innovation for Development, which will be held on November 7-8 at the Hall 74 event center (Calle 74 # 14–25) in Bogota, Colombia.
President Duque believes boosting productivity is one of the central themes of his economic development policy to improve the income of Colombians. He also promotes the so-called Orange Economy, with projects focusing on culture, technology, and innovation. Similarly, Duque underpins the Colombia Pact, based on Equity, Entrepreneurship and Legality as central themes.
Local panelists include the Minister of Trade, Industry and Tourism, José Manuel Restrepo; the Mayor of Medellin, Federico Gutiérrez; chef Leonor Espinosa; the President of Corficolombiana, María Lorena Gutiérrez; the President of the Private Competitiveness Council, Rosario Córdoba; the CEO of BBVA Colombia, Oscar Cabrera, and former Finance Minister and former president of Ecopetrol Juan Carlos Echeverry.
International speakers include Jeffrey Kratz, general manager for Latin America, Canada and the Caribbean at Amazon; Kyoo Sung Noh, Chairman of the Korea Productivity Center; Ric Gros, President of METS Ignited (Australia); Stuart Martin, President of Catapult Satellite Applications (UK); Leong Seng Loo, head of technology at GeTS (Singapore); Dyogo de Oliveira, President of BNDES (Brazil), and Sebastián Sichel, Executive Vice President of CORFO (Chile).
The event will also feature Jorge López Lafuente, President of Grupo Jala (Bolivia); Patricio Meller, project director of the Corporation for Latin American Studies (CIEPLAN, Chile); Luis Marchese Montenegro, President of Peru's National Corporation of Mining, Petroleum and Energy; Fernando De Fuentes, President of Anima Studios (Mexico); Luis Felipe López-Calva, UNDP regional director for Latin America and the Caribbean; José Manuel Salazar, regional director for Latin America and the Caribbean of the ILO, and Carlos Heeren, executive director of UTEC (Peru), among others.  
During the CAF Conference: Productivity and Innovation for Development participants will discuss strategic issues such as the potential of commodities to generate competitive advantages; innovation as a driver of productivity; logistics platforms and digital transformation; the future of employment and skill development; the role of cities to drive growth; development based on creativity; and political consensus and institutions in building a productivity pact.
Click here for more information and to sign up for the Conference free of charge. You can also follow the event live within the region and make comments with the hashtag #ProductividadCAF
.