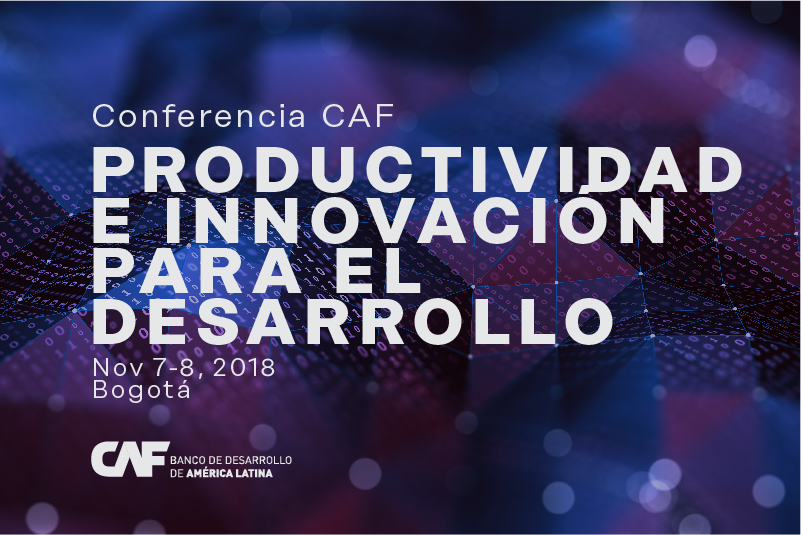 Productivity and innovation will be the main themes for CAF Conference in Colombia
Bogotá / Colombia,
October 12, 2018
More than 50 world leaders will meet in Bogota on November 7-8 to discuss the challenges and actions needed to advance in designing a comprehensive agenda for productivity in Latin America that will lead to higher levels of growth and development.
CAF Conference: Productivity and innovation for development will be the forum where more than 50 world leaders will discuss the challenges and actions needed to advance the design of a comprehensive agenda that will allow Latin America to consolidate itself as a more productive and innovative region, for the purpose of achieving higher levels of growth and development.
CAF-development bank of Latin America- is organizing the event, which will take place on November 7-8 at the Hall 74 event center (Calle 74 # 14-25) in Bogota (Colombia), with experts from Australia, Korea, Spain, United States, United Kingdom and Singapore, among others, to discuss strategic issues such as the potential of commodities to generate competitive advantages; innovation as a driver of productivity; logistics platforms and digital transformation; the future of employment and skill development; the role of cities to drive growth; development based on creativity; and political consensus and institutions in building a productivity pact.
"A comprehensive approach to productivity is fundamental in reducing poverty and inequality in Latin America. This effort requires the commitment of all governments, entrepreneurs and citizens in the region; therefore, CAF is promoting forums such as this Conference to build political consensus through a Pact for productivity that will allow us to move towards higher levels of growth and development," said Luis Carranza, executive president of the institution. 
This Conference will also feature José Manuel Restrepo, Minister of Commerce, Industry and Tourism of Colombia; Jeffrey Kratz, general manager for Latin America, Canada and the Caribbean at Amazon; Kyoo Sung Noh, President of the Korea Productivity Center; Federico Gutiérrez, Mayor of Medellín, Ric Gros, CEO of METS Ignited (Australia); Dyogo de Oliveira, President of the BNDES (Brazil); Sebastian Sichel, Executive Vice President of CORFO (Chile); Jorge López Lafuente, President of Grupo Jala (Bolivia); María Lorena Gutiérrez, President of Corficolombiana; Óscar Cabrera, CEO of BBVA Colombia; Rocío Fonseca, Innovation Manager at CORFO and former Executive Director of Start-up Chile; Fernando De Fuentes, President of Anima Studios (Mexico); Colombian chef Leonor Espinosa;  Luis Felipe López-Calva, regional director for Latin America and the Caribbean at UNDP; José Manuel Salazar, regional director for Latin America and the Caribbean at the ILO; Carlos Heeren, executive director of the University of Engineering and Technology (UTEC, Peru); and Eduardo Levy, Dean of the School of Governance of the Universidad Torcuato di Tella in Argentina; among others.
Click here for more information and to sign up for the Conference free of charge. You can also follow the event live within the region and make comments with the hashtag #ProductividadCAF.