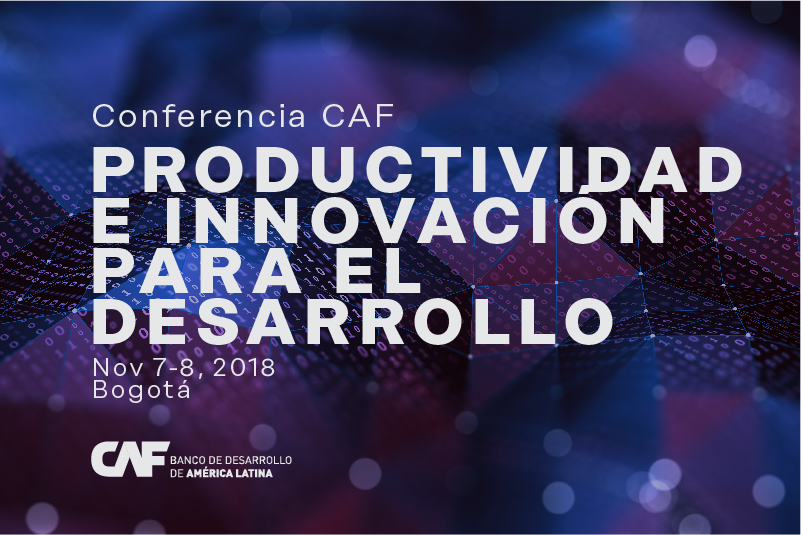 CAF brings together 500 Latin American leaders in Bogota to discuss productivity and innovation
Bogotá / Colombia,
November 05, 2018
Natural resources, creativity, logistics platforms, digital transformation, employment and skill development, innovation, cities and political consensus, are some of the topics to be discussed starting tomorrow at the CAF Conference, which will be held at Hall 74 (Calle 74 # 14-25) in Bogotá, Colombia.
The CAF Conference will be mainly focused on the challenges faced by Latin America, from the standpoint of advancing a comprehensive agenda on productivity and innovation to boost growth and development. The keynote speech will be delivered by the President of Colombia, Iván Duque, and executive president of CAF–development bank of Latin America–,Luis Carranza, at the Hall 74 event center (Calle 74 # 14-25) in Bogotá, Colombia.
"CAF Conference: Productivity and Innovation for Development will be a forum for dialogue and integration in which governments, businessmen, civil society and Latin American entrepreneurs can discuss our pending tasks as a region that need to be completed in order to become increasingly competitive. In addition, we will have the opportunity to learn the best ideas and proposals from international experts that are setting global trends in productivity and innovation. It is a pleasure to participate in this discussion and present the vision of the administration of President Iván Duque on productive development, innovation and the construction of value added," said Colombia's Minister of Commerce, Industry and Tourism, José Manuel Restrepo.
CAF executive president stated: "The 500 Latin American leaders joining us in this meeting are invited to consolidate a productivity "Pact" to achieve fundamental political consensus and foster the adoption of strategies and best practices to prioritize allocation of funds and boost productive innovation, in order to achieve levels of well-being, growth and investment similar to more developed countries."
In this regard, the President of the Brazilian Development Bank (BNDES), Dyogo de Oliveira, said: "At a time when Latin America is experiencing a renewed growth outlook, building political consensus on productivity and innovation is essential for the competitive insertion of the region into global markets. I am sure that the CAF Conference will feature a strategic debate on the central challenges that businesses and governments must take on to promote economic and social growth in the region."
Innovation and knowledge as productivity drivers were also featured in the event's agenda, which was held on November 7-8. On this subject, Stuart Martin, CEO of Catapult Satellite Applications, said that "satellites help build a global evidence base on how our world is changing. They provide data, monitoring and connectivity to ensure that natural resources are managed efficiently in favor of sustainable productivity."
"Creativity and innovation are key to advancing down the path of development in a globalized world. On the one hand, the frequent and disruptive changes pose challenges permanently; but on the other hand, creativity and innovation present windows of opportunity to explore new solutions to our region's problems," added Fernando Brum, President of Uruguay's National Agency for Research and Innovation, who will also participate in the Conference.
Another panel discussed commodities and their potential to generate global competitive advantages. Patricio Meller, project director at the Center of Latin American Studies (CIEPLAN), said that he will highlight in his speech that "natural resources are ceasing to be commodities, and that young people are becoming key stakeholders. We should encourage them to use their skills not to create a 'super Facebook,' but to solve the problems of natural resources and thus turn Latin America into a developed region."
CAF Conference: Productivity and Innovation for Development also featured Jeffrey Kratz, general manager for Latin America, Canada and the Caribbean at Amazon; Kyoo Sung Noh, President of the Korea Productivity Center; Federico Gutiérrez, Mayor of Medellín; Ric Gros, CEO of METS Ignited (Australia); Sebastián Sichel, Executive Vice President of CORFO (Chile); Jorge López Lafuente, CEO of Grupo Jala (Bolivia); and María Lorena Gutiérrez, President of Corficolombiana.
Other speakers include Óscar Cabrera, CEO of BBVA Colombia; Rocío Fonseca, Innovation Manager at CORFO and former Executive Director at Start-up Chile; Fernando De Fuentes, President of Anima Studios (Mexico); Colombian chef Leonor Espinosa, Luis Felipe López-Calva, regional director for Latin America and the Caribbean at UNDP; José Manuel Salazar, regional director for Latin America and the Caribbean at the ILO; Carlos Heeren, executive director of the University of Engineering and Technology (UTEC, Peru); and Eduardo Levy, Dean of the School of Governance of Universidad Torcuato di Tella in Argentina; among others.