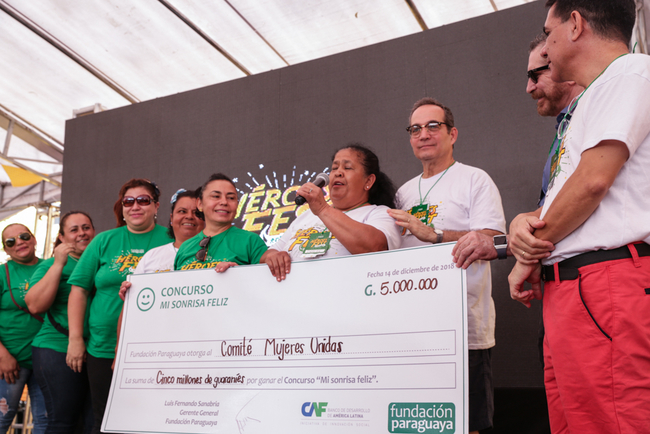 "Sentí que se puede," a competition that empowers vulnerable communities in Paraguay
Asunción/Paraguay,
December 18, 2018
The "Sentí que se Puede" competition, promoted by CAF and the Fundación Paraguaya acknowledged the work of more than 1,400 Paraguayan families in their efforts to improve their living conditions and overcome poverty.
Three Paraguayan families were awarded in the "Sentí que se Puede" competition, sponsored by CAF- development bank of Latin America- and Fundación Paraguaya, which seeks to vindicate empowerment and community action to overcome poverty. 
Around 1,400 families participate every year in the competition, as part of the partnership between CAF and Fundación Paraguaya, which has led to the construction of 277 bathrooms and kitchens, and dental services to 112 people, with their own efforts and resources.
The ceremony was held at the San Francisco de Asís School in El Chaco, and also featured competitions such as "Mi baño, mi cocina, mi orgullo," "Mi sonrisa feliz" and "Verdeate," which promote the construction of bathrooms, kitchens, provision of dental services and overcoming poverty based on own efforts and empowerment. 
These competitions not only provide practical solutions that improve the living conditions of people tangibly and promptly, but also empower, dignify and develop basic skills in people. CAF and Fundación Paraguaya drive social innovation by empowering, training and raising awareness among families about the importance of sanitation, general and oral hygiene, and the vital role of the community in the transformation of their own reality and quality of life.
The awards were presented by Joel Branski, CAF Director-Representative in Paraguay, and Martín Burt, executive director of Fundación Paraguaya. The ceremony was also attended by representatives of more than 70 companies who are currently implementing the Poverty Stoplight in Paraguay and local authorities from the Benjamín Aceval municipality and the town of Cerrito.
The prize for the winners is a cash deposit in a savings account created for that purpose, for the women entrepreneurs and their savings committee. To achieve their goals, they had the support of their neighbors, their families and communities. CAF has also sponsored the Stoplight Olympics with the participation of more than 11,000 students from 120 schools in Paraguay. The Olympics allow children and adolescents to be drivers of change to overcome poverty in their families through a competition, the prize of which is an end-of-year trip to a beach in Brazil.