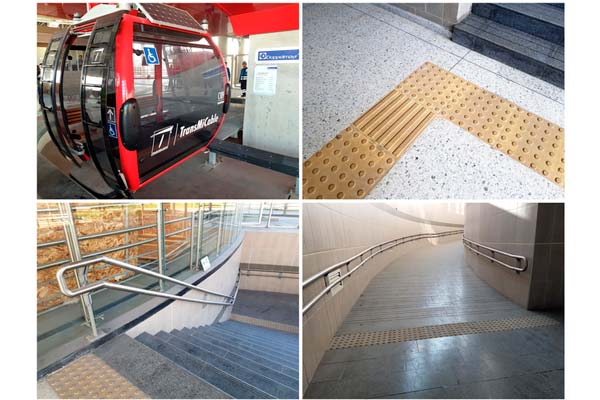 TransMiCable, the new inclusive mass transportation system to improve mobility in Bogota
December 19, 2018
Social Innovation and Infrastructure: a novel collaboration scheme between CAF-development bank of Latin America- Ilunion Tecnología y Accesibilidad, Transmilenio S.A. and the Cable Móvil Consortium ensures accessibility for people with disabilities in the new cableway system in Bogotá.
TransMiCable is the first public transport cable car system in Bogotá and will benefit approximately 80,000 people in its sphere of influence in the area of Ciudad de Bolivar. The joint work between CAF-development bank of Latin America-, Ilunion Tecnología y Accesibilidad, Transmilenio S.A. and Cable Móvil will make infrastructure, signaling and operational conditions accessible to all users, including people with disabilities.
TransMiCable will have four stations along a 3.34-kilometer line, and will allow users to travel in 13 minutes a distance that currently takes one hour on surface transport. The 163 cable cars will be fully accessible for people with reduced mobility or wheelchair users. The system will also be accessible for people with other types of disabilities. It should be noted that more than 6% of Colombians have some form of disability.
According to Colombian legislation, Transmilenio S.A., the company in charge of managing public transportation in Bogotá, and Cable Móvil, awardee of the TransMiCable operation, should ensure accessibility of the new transport system. With the support of CAF and Ilunion Tecnología y Accesibilidad, TransMiCable is expected to become an example of inclusive transport, while improving mobility of residents of Bogotá, enhancing integration of the most vulnerable social groups, such as persons with disabilities, pregnant women, children and the elderly.
Ilunion Tecnología y Accesibilidad is a pioneering Spanish company in universal accessibility, and has extensive international experience in the field of accessibility in physical and digital environments. It is part of the ONCE (National Organization of Blind Spaniards) group, which has a collaboration agreement with CAF to create synergies to contribute jointly to the improvement of living conditions of the populations with disabilities in Latin America.
The collaboration with Transmilenio S.A. and Cable Móvil is the first experience of the potential impact that the partnership between CAF, ONCE and mass urban transport companies can offer in ensuring that transport infrastructure in the region is inclusive and accessible. This is an example of social innovation promoted by a multilateral entity such as CAF, which is currently one of the main financiers of Latin American transportation infrastructure.