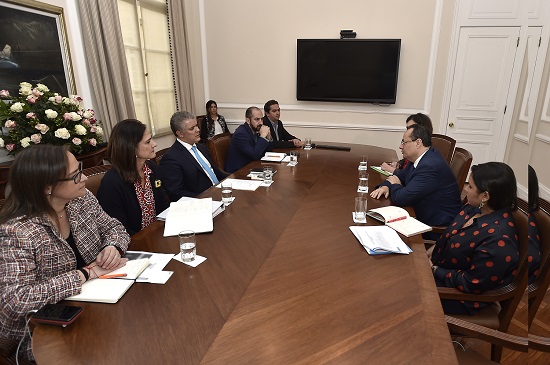 CAF reiterates its commitment to Colombia's comprehensive development
Bogotá / Colombia,
March 07, 2019
The executive president of CAF, Luis Carranza, met with Colombian President Iván Duque to ratify the multilateral agency's commitment to the government's development plans.
During the meeting, held in Bogotá, they analyzed the actions developed by CAF together with the Colombian government to advance the nation's sustainable economic development with a high level of social commitment. 
The issues addressed include the advancement of logistics corridors and connectivity, the development of the rural sector and infrastructure, improvements in urban transport and measures to promote an increase in productivity and competitiveness.
The meeting was also attended by Carolina España, CAF representative in Colombia, Ángela María Orozco, Minister of Transport, Luis Alberto Rodríguez, Vice-Minister of Finance, Clara Helena Parra, Top Presidential Aide for the Private Sector and Competitiveness, and Felipe Buitrago, Advisor for Economic and Strategic Affairs. 
Between 2013 and 2017, CAF allocated funds in the amount of USD 8.99 billion for operations in Colombia, which represents an average of USD 1.79 billion a year. This accounts for 15% of the total funds approved by the agency.