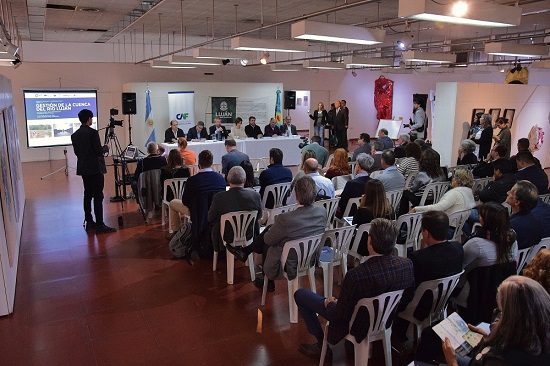 Seminar brings together key agents of Argentina's Luján River Basin Management.
March 29, 2019
After 25 years of floods affecting Buenos Aires, the Luján River Basin Management Plan aims to help hundreds of thousands of residents to improve their quality of life.
CAF- Development Bank of Latin America, in partnership with the French Development Agency (AFD) and the Luján River Basin Committee (COMILU), carried out the "First Seminar for the Management of the Luján River Basin- Exchange of Experiences and Good Practices" in Greater Buenos Aires, some 75 kilometers from the Argentine capital. 
"In light of the many floods that have affected so many people over the years, we will be supporting Buenos Aires province's Integrated Management Plan to reduce the risk of flooding and the damages associated with it," CAF Representative in Argentina Santiago Rojas said in his keynote speech,  
adding that the institution expects to decrease the area's flooding danger "within the next 10 years," and praising the Basin Committee for its openness to teamwork. Speakers included Luján City Council President Fernando Casset; Luján Infrastructure and Utilities Secretary Marcelo Gutiérrez, AFD Head in Argentina Juliette Grundman, Buenos Aires Water Works Deputy Secretary and COMILU Vice President Luis Giménez and Provincial Water Director Mario Gschaider. 
The seminar featured several panel discussions, the first of which analyzed the basin's participatory management strategies aimed at reducing the risk of flooding. Participants then engaged in a discussion on the management of the Luján River basin and looked into the financial planning and sustainability tactics used by the project's organizations. Finally, attendees were able to shar their takeaways from the event, the purpose of which was to contribute to strengthening COMILU's planning tactics, hoping to improve the Water Resources Integrated Management (GIRH). 
Through the organization of the seminar, CAF reinforces its role as an unconditional ally of sustainable development cross its member countries, as well as the organization's commitment to the deployment of the Luján River Basin Integrated Management Plan, a project that will tackle the region's water problems from all fronts in compliance with the best international practices.