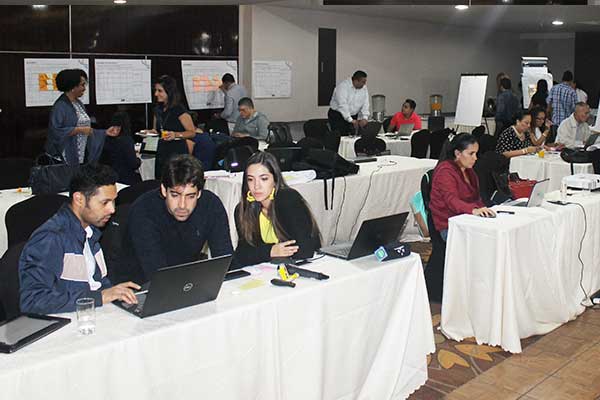 Commitment to Innovation Routes in Panama
For the first edition of the Innovation Routes workshop, held on April 8–12, the CAF-Incubba team selected 10 technologies with a patent application via the Patent Cooperation Treaty (PCT).
CAF Development Bank of Latin America together with Incubba, the Patents and Technologies Incubator for Colombia's EIA University, held the Innovation Routes Workshop in Panama, with a group of Panamanian companies, universities, think tanks and associations, which had previously participated in the Intensive Workshops for Accelerated Patent Development and in the CAF-SENACYT patenting project. These Patenting Intensive Workshops built capacities in readiness and managing patentable technology innovation and produced 125 patent applications at the National Office and through the Patent Cooperation Treaty (PCT).
Juan Elorza, Director of Private Sector Technical Analysis and Evaluation at CAF said that "in 2018 we started the process to patent 125 technology concepts with the Industrial Property General Directorate (DIGERPI) and via the PCT, in partnership with Panama's National Secretary of Science and Technology (SENACYT). After this important step and to strengthen the support for technological innovation of Panamanian institutions in this process, the "Innovation Routes" workshop was designed, which seeks to close the protection and commercialization cycle for conceptualized technologies as a follow-up to the work done through the CAF Method for Accelerated Patent Development."
Simón Villa, director of Incubba, said: "Panama is one of the countries with the highest growth in PCT patent applications worldwide, and is now facing the opportunity to transform that inventiveness into marketed innovations, which are the first steps towards joining the select group of countries with high-impact innovation ecosystems and technology-based entrepreneurship. This series of workshops was designed to work towards that goal, as it seeks to build the necessary capacities to transform all these inventions into added value for participating companies."
The Innovation Routes workshops consist of three phases: Technology ID and receipt of applications and diagramming, throughout the 5-day workshop, which will explain the main tools for management of patentable technology innovation; and a follow-up phase. The last stage allows the Incubba team to provide specialized advice to each participating entity for a period of three months after the workshop, to ensure fulfillment of goals.
Panama Technology University, the University of Panama, the Autonomous University of Chiriquí, Elektra Noreste S.A., (ENSA), Urban Farms Global and the Gendiagnostik Center participated in the first event.
The "Innovation Routes" workshop is scheduled for two additional editions this year, where new participants will be able to submit their applications for future training.