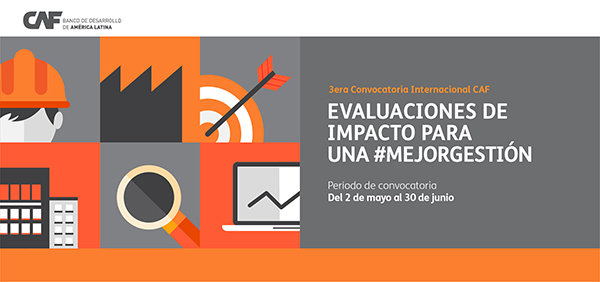 CAF launches 3rd International Call for Proposals on Impact Assessment for #BetterManagement
May 02, 2019
For the third consecutive year, CAF is launching this initiative that seeks to encourage government officials in Latin America and the Caribbean to assess the impact of the programs and policies they lead.
CAF—development bank of Latin America—with the support of J-PAL LAC—Regional Office of the Abdul Latif Jameel Poverty Action Latin America and the Caribbean—, and CLAD—Latin American Center for Development Administration—, provides public entities in Latin America and the Caribbean with resources and experience to help produce quality lessons and encourage the institutionalization of impact assessment as a public management tool.
The International Call for Impact Assessments for #BetterManagement seeks to identify innovative public institutions in Latin America that have an interest in learning about their programs, to support them in the design and implementation of rigorous scientific impact assessments.
The call will be open from May 2 to June 30, 2019. Five proposals are expected to be selected for technical and logistical support in order to assess the impact of their programs in order to turn those lessons into better management.
Priority will be given to proposals in the following three (3) broad public policy areas:
Competitiveness: Competitiveness, productivity, regulation and financial inclusion.
Inclusion: Social inclusion of vulnerable groups, education, food security.
Institutions: Digital innovation of the state, with a focus on (i) e-government, public innovation and open data, and (ii) public integrity, transparency and public procurement.
We invite all interested public institutions to apply in this 3rd Call by submitting their management programs or initiatives, in order to engage, together with our team of specialists, in an exciting process of learning and reflection on their management and, with a view to transforming the way public policies are devised in Latin America.
For more information, please visit the website of the call