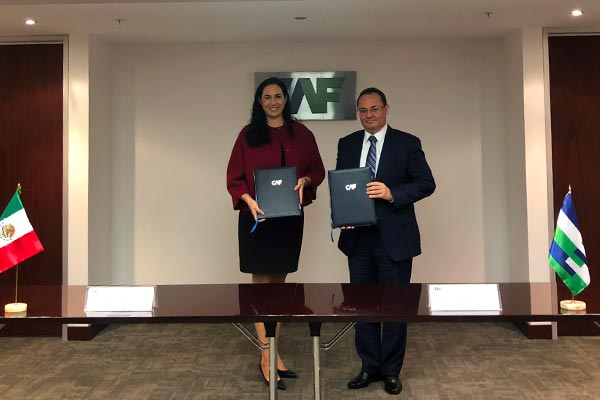 Greater opportunities for Mexico's SMEs in Pacific Alliance with support from CAF, NAFIN and Bancomext
Lima / Perú,
July 04, 2019
Innovation, internationalization and high-impact entrepreneurship are the main axes of the joint work to be developed by CAF, NAFIN and Bancomext to provide greater access to financing, technical assistance and knowledge transfer for Mexico's SMEs, in order to leverage trade integration promoted by Pacific Alliance governments.
In order to boost productivity of small and medium-sized enterprises (SMEs) in the Pacific Alliance, CAF—development bank of Latin America—, NAFIN and Bancomext signed a Memorandum of Understanding to enhance access and promote the use of financial products, technical assistance and knowledge transfer, with an emphasis on business innovation, internationalization and productive integration.
The activities to be jointly developed by CAF, NAFIN and Bancomext include the promotion of the private equity industry, through an investment vehicle managed by Fondo de Fondos and Sonen Capital, with a focus on SMEs that serve sectors with a high social impact at the bottom of population pyramid; programs to boost competitiveness, productivity, internationalization, innovation and productive articulation of SMEs; and support for financial inclusion, local economic development and social innovation programs aimed at vulnerable groups; among others.
At the signing of the MoU, CAF executive president Luis Carranza assured that "these initiatives will promote financing to SMEs that have specific projects for internationalization and tapping into international markets, innovation in products, services and processes, or that wish to effectively integrate into both regional and international value chains and clusters, in order to boost productivity, the integration process and economic development of Pacific Alliance members."
In addition, Ana Laura Fernández, deputy director of Impact Investments at Mexico's Fondo de Fondos, noted: It has always been an honor to collaborate with development banking institutions as important as CAF, NAFIN and Bancomext in supporting the venture capital ecosystem.
Similar Memoranda of Understanding were signed between CAF and Bancoldex (Colombia), and COFIDE (Peru), and will be signed soon with CORFO (Chile), which are the development banks of the Pacific Alliance countries, in order to foster the use of and access to financial products and technical assistance for SMEs in different areas of common interest.