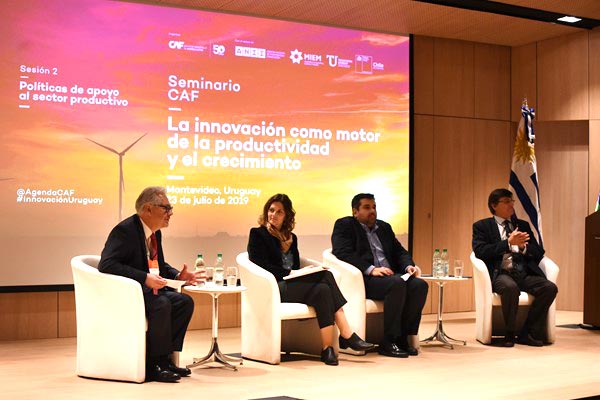 More innovation to boost Latin America's economic growth
July 23, 2019
CAF—development bank of Latin America—brought together world-class international leaders in Montevideo to address the issue of innovation as a driver of development.
In the absence of headwinds in the global economy and variability in the price of raw materials, Latin America must favor innovation as a driver of growth and as a formula to boost productivity, which is still below that of more advanced economies.
This is one of the main conclusions reached by a group of international experts gathered in Montevideo at a seminar organized by CAF—development bank of Latin America—as part of the celebration of its 50th anniversary. The event was sponsored by the Ministry of Industry, Energy and Mining, the National Research and Innovation Agency, Transforma Uruguay, and the Chilean Embassy in Uruguay.
The keynote speaker was Germán Ríos, CAF representative in Uruguay,who stressed that Latin America needs to achieve a productive transformation, for which some pillars have already been set in the areas of infrastructure and foreign investment, enabling countries in the region to make a qualitative leap and achieve performance levels similar to those of more advanced economies.
In addition, Olga Otegui, undersecretary of Uruguay's Ministry of Industry, Energy and Mining, referred to the title of the seminar, "Innovation as a driver of productivity and growth," as the key to the economic development, and assured that Uruguay has made noticeable headway in this regard. 
"Talking about innovation is about looking beyond technology. It is about innovation in logistics, infrastructure and financial instruments. All of them improve competitiveness in their own way. The most important task here is to try to turn the challenges into ideas that can be brought to fruition in future projects," Otegui said.
The first panel, moderated by Juan Carlos Elorza, Director of Analysis and Technical Evaluation of the Private Sector at CAF, featured Mario Cimoli, Deputy Executive Secretary of the Economic Commission for Latin America and the Caribbean (ECLAC), Fernando Brum, President of the National Research and Innovation Agency (ANII), and Nicolás Jodal, CEO of GeneXus.
During the last part of the meeting, Ríos led the debate on policies to support the productive sector, which featured Carolina Torrealba Ruiz-Tagle, Undersecretary of Science, Technology, Knowledge and Innovation in Chile ; Álvaro Ons, Secretary of Productive Transformation and Competitiveness at Transforma Uruguay and Gerardo García Pintos, President of Uruguay's Confederation of Business Chambers.